With a renewed interest in traditional crafts and artisanal talent, American chefs and restauranteurs are seeking out authentic wares with a handmade touch. To find these artisanal pieces, many in our industry have looked to Portugal, renowned for their woodcarving, metalwork, ceramics, and textile skills.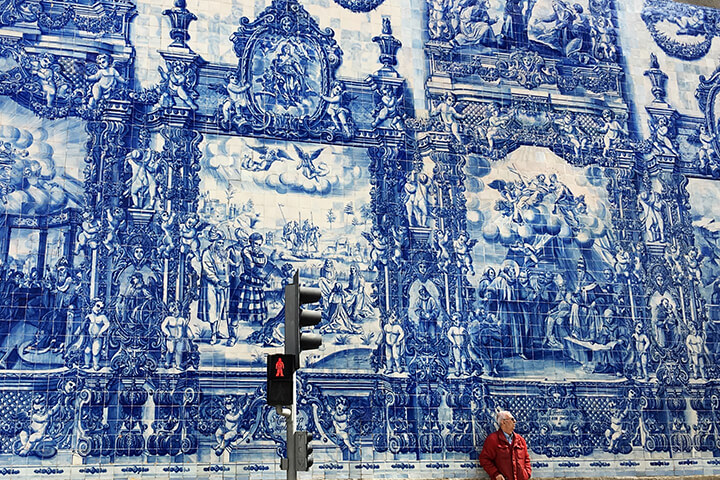 One example of traditional Portuguese craftsmanship is the azulejo or painted ceramic tile. Dating back to 13th-century Portugal, azulejos are visually striking, with each tile meticulously hand-painted and then glazed with a glossy, lustrous finish.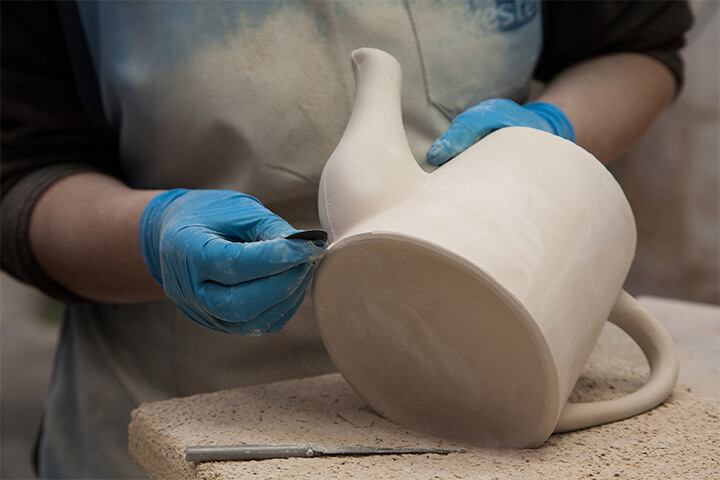 The attention to detail and respect for the craft given to each azulejo mirrors the thought and construction behind other goods, such as commercial tableware. With that in mind, we'll introduce several timeless lines of Portuguese-made dinnerware from newcomers in the US market, Costa Nova.
Friso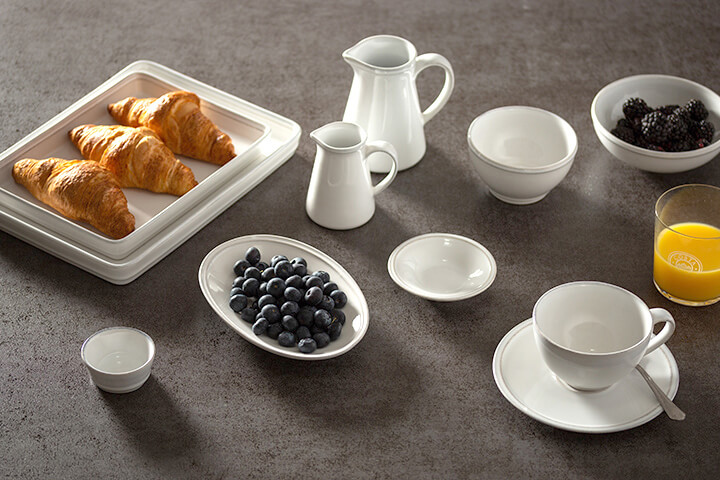 The first line we would like to highlight combines functionality and versatility with design, making it a sought-after choice for both fine and casual dining. Crafted from fine stoneware, Friso dinnerware is highly durable, delivering exceptional performance that can stand up to high-volume usage.
The unique patina of hand-brushed edges adds an artisanal touch, elevating the dining experience to new heights. This exquisite line is not only stain and chip-resistant but also highly resistant to metal marking, ensuring long-lasting durability.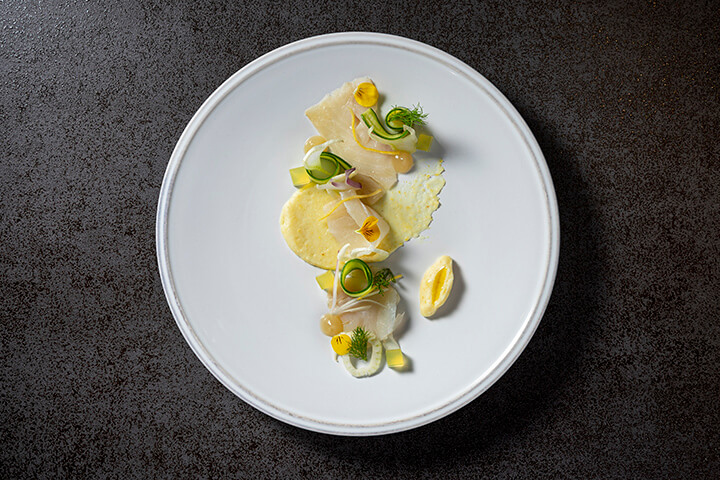 Designed to meet the requirements of gastronomers and hoteliers alike, Friso dinnerware is available in three complimentary colors — Pure White, Sage Green, and Gray — each finished in a glossy glaze that exudes an aura of refinement.
Âmbar
Sustainability is on the minds of both policy makers and Portugal's future leaders. Reflecting these values is the recycled stoneware line, Âmbar.
Âmbar dinnerware is special because it made from Ecogres, a proprietary clay composed of recycled materials, which is both an aesthetic statement and a highlight of its sustainability. The Âmbar line tells a unique story of how tableware can be made of recycled materials while remaining beautiful, functional, and eco-friendly.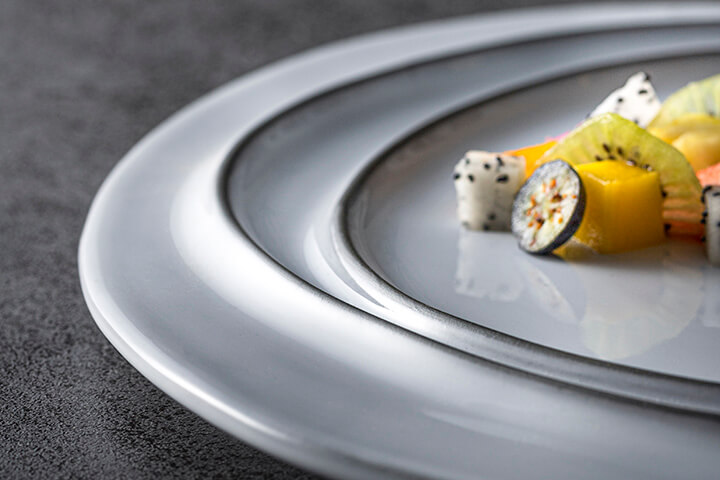 Perfect for fine dining, tapas, and bar settings, the Âmbar line is available in three colors whose names alone induce hunger: Salt of the Sea, Chocolate, and Dark Caramel. With Âmbar, chefs and restaurateurs can showcase their culinary creations on recycled stoneware that is not only visually stunning but supports their own commitment to sustainability.
Livia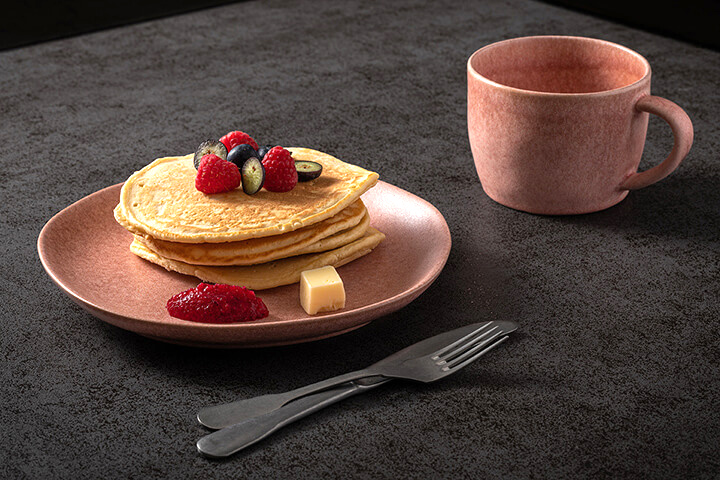 Reminiscent of natural structures that have been shaped by the sea on the Algarve coastline, Livia embodies modernity, craftsmanship, and organic appeal.
Crafted with the utmost care and precision, Livia is the perfect choice for chefs and restaurateurs who take pride in creating unique dishes that reflect their personality and style. Its stackable feature ensures that you can save space without compromising on its outstanding performance. Additionally, its strong edges provide the perfect resistance to impact, ensuring its longevity and durability.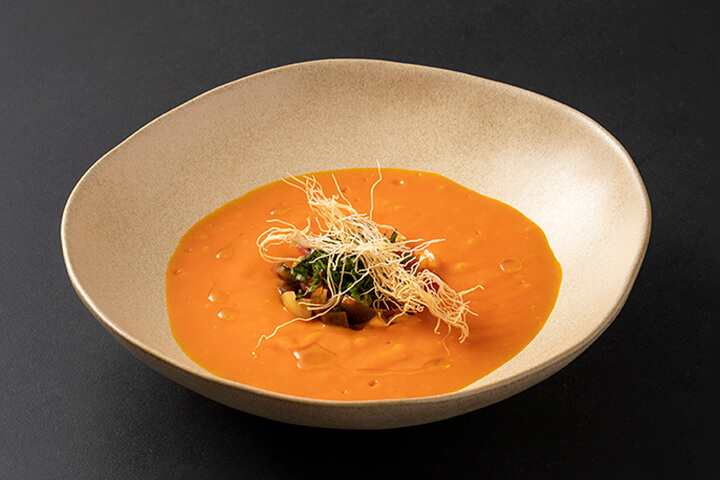 This fine stoneware collection comes in four colors: Champagne, White, Mauve Rose, and Matte Black. Whether it's for casual dining, buffets, or cafes, Livia is designed to elevate your guests' dining experience and add sophistication to any table setting with its organic look and ode to nature.
Pearl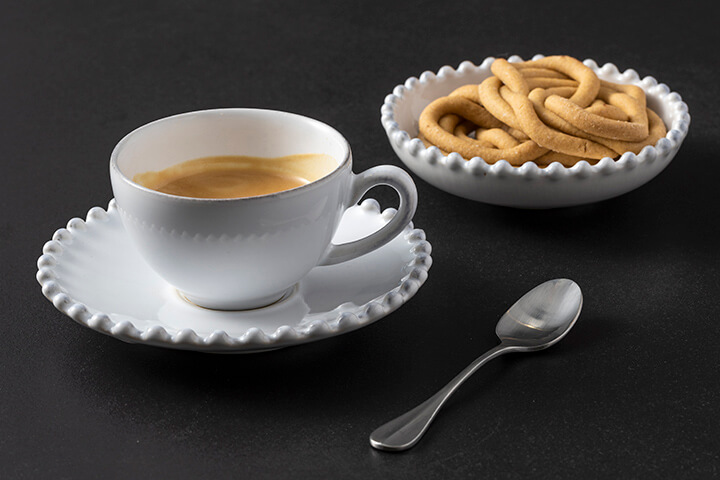 With over 1,000 miles of coastline, fresh seafood is prized by the Portuguese, who have established regulations to ensure its marine resources are sustainably sourced, while protecting its fish stocks, and promoting responsible fishing practices. Their abundance of seafood comes complete with a significant oyster population that produces Algarve pearls.
While paying homage to Portugal's natural resources, the Pearl dinnerware line also draws inspiration from antique European ceramics created in the 18th and 19th century. This collection features a timeless design that seamlessly blends classic and contemporary elements, perfect for both traditional and modern table settings.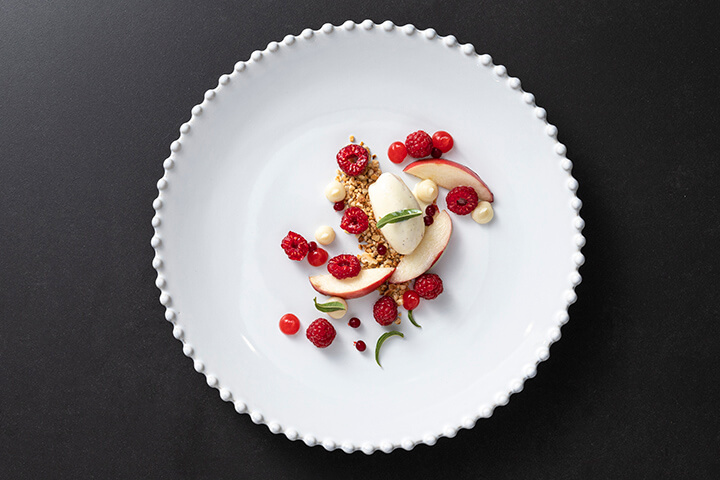 Crafted with a unique round shape and embellished with highly resistant "pearl" beads, this reinvented classic concept boasts exceptional performance and versatility, making it an ideal choice for a variety of occasions including fine dining, cafes, and special events. The Pearl collection is available in glossy white, adding a touch of refinement and sophistication to any culinary presentation.
Nótos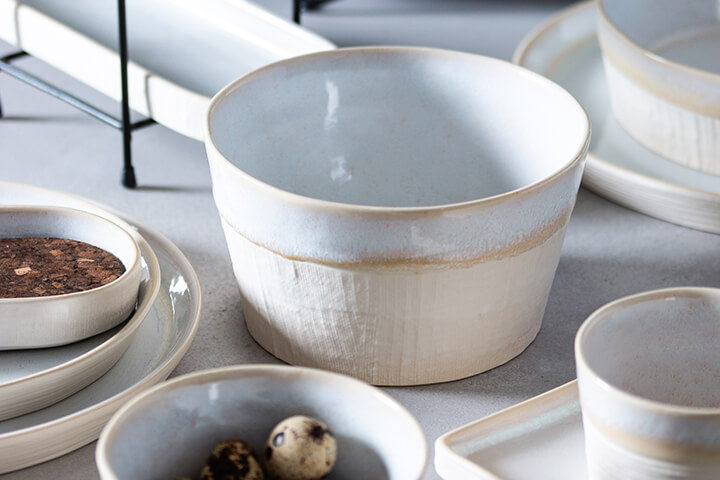 Nótos is an innovative collection that features straight lines, pure shapes, and flowing surfaces, combined with matte, rough, and sandy textures. This collection is available in two color options inspired by Atlantic coastline: Latitude Black, which has a deep and shinning hue; and Dune Path, which is a light, sandy beige.
Design-minded chefs and restauranteurs love its wide range of shapes that can be combined with accessories made from natural materials, such as cork placemats, metallic risers, and wooden trays. The presentation options are limitless, making it an ideal solution for fine dining, casual dining, and everything in between.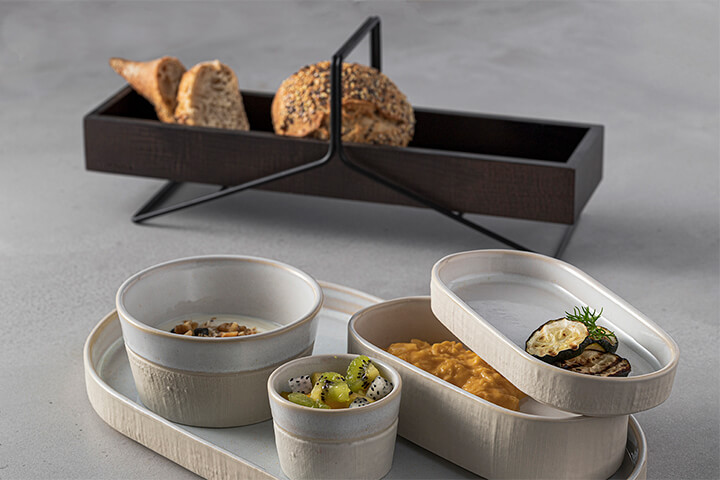 Nótos dinnerware is highly resistant to impact, with matte and translucid glazes, and fully vitrified pieces. The stackable shapes allow for easy storage and transportation, while the Bento Boxes provide safe and hygienic individualized food service. Overall, this collection is a stylish and practical choice for any restaurant looking for high-quality dinnerware that exceeds in eclectic presentation.
Lisa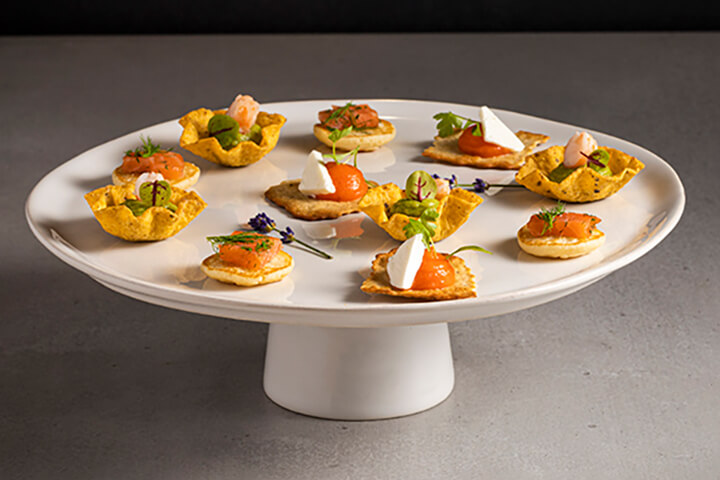 The Lisa collection speaks to both Portuguese craftsmanship and hospitality. Portugal is known for its warm and welcoming people, able to create inviting atmospheres that make visitors feel right at home.
Food is a significant part of Portuguese culture as they view it as a way to connect with others and express love and hospitality. Lisa dinnerware features soft organic shapes in a warm white glaze that provides gentle comfort to tabletops. Additionally, each piece of the Lisa collection is unique in its shape, which brings an irresistible handcrafted appeal to the table that chefs and restauranteurs seek, and their patrons enjoy.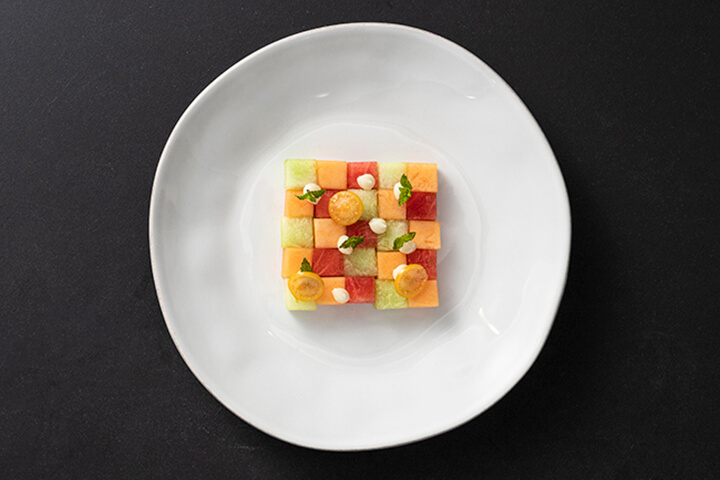 This dinnerware line is a perfect fit for any occasion, whether it's café dining or an upscale restaurant. Like all of Costa Nova's tableware, Lisa's strong edges withstand impact. This durability is an ideal choice for bustling restaurants and buffet dining. Additionally, Lisa's neutral color scheme and simple presentation makes it easy to combine with other dinnerware patterns, giving you endless possibilities for customization.
Enhancing Dining Experiences With Authenticity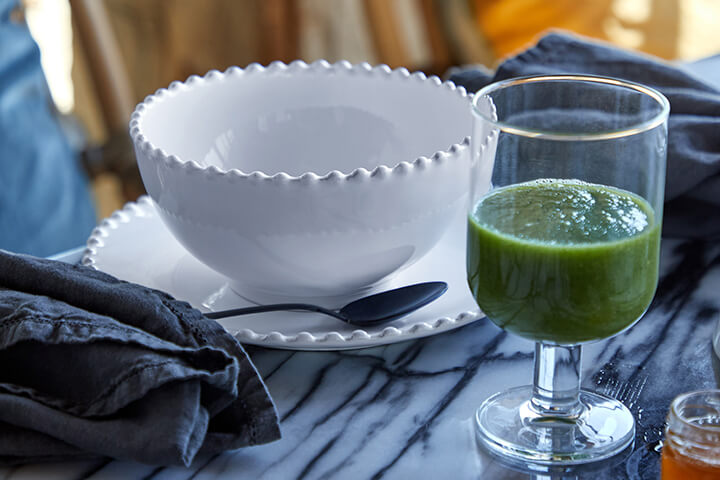 Portuguese artisanal talent is finding its way into American commercial kitchens, with chefs and restaurateurs seeking out authentic pieces. The elegant presentation options combined with inspiration drawn from Portugal's natural landscape and ideals, creates mesmerizing palettes that elevate every culinary presentation in unique and special ways.
Partnered With Costa Nova
The love of life, family, friends, and good food has inspired Costa Nova to create fine stoneware, glassware, flatware, and linen collections that combine quality and design with the best craftsmanship.
We produce innovative and sustainable stoneware made from the best natural resources in Portugal. In addition, our team of designers, technicians, modelers, and craftsmen are constantly developing original shapes and colors, all the way to truly unique designed and handcrafted pieces.
We use the best natural resources in Portugal. Costa Nova products are made in a single firing system heated up to 2160ºF which creates a unique ceramic body with a special bonding between the clay and the glazed surface. This original formula explains why our stoneware is so durable and resistant to both thermal and mechanical shocks.
Costa Nova began in a small Portuguese fishing village, near the Atlantic Ocean. Nowadays, carrying Portugal's name and heritage all over the world, the brand is present in hotels and restaurants across five continents.