This is Part 2 of a 2-part series about plantscaping and biophilic design for restaurants.
As we discussed in Part 1, biophilic design is an up-and-coming option when creating a modern foodservice venue. It allows patrons to benefit from the holistic health benefits interacting with nature provides.
For restaurants, biophilic design offers competitive advantages including lower noise pollution, fresh ingredients, functional dividers or walls, and happier customers. Today, we are looking at real-life examples of biophilic design. We will also discuss some of the creative routes these restaurants took to achieve their green interiors.
Oxomoco
When Michelin-starred Oxomoco decided to make the most of their airy high ceilings and giant skylight, they enlisted the help of a biophilic-focused botanical company, Greenery NYC, to see what was possible. With their expertise, Oxomoco's sun-drenched space soared to new heights by adding an abundant vine display to the high ceilings and skylight.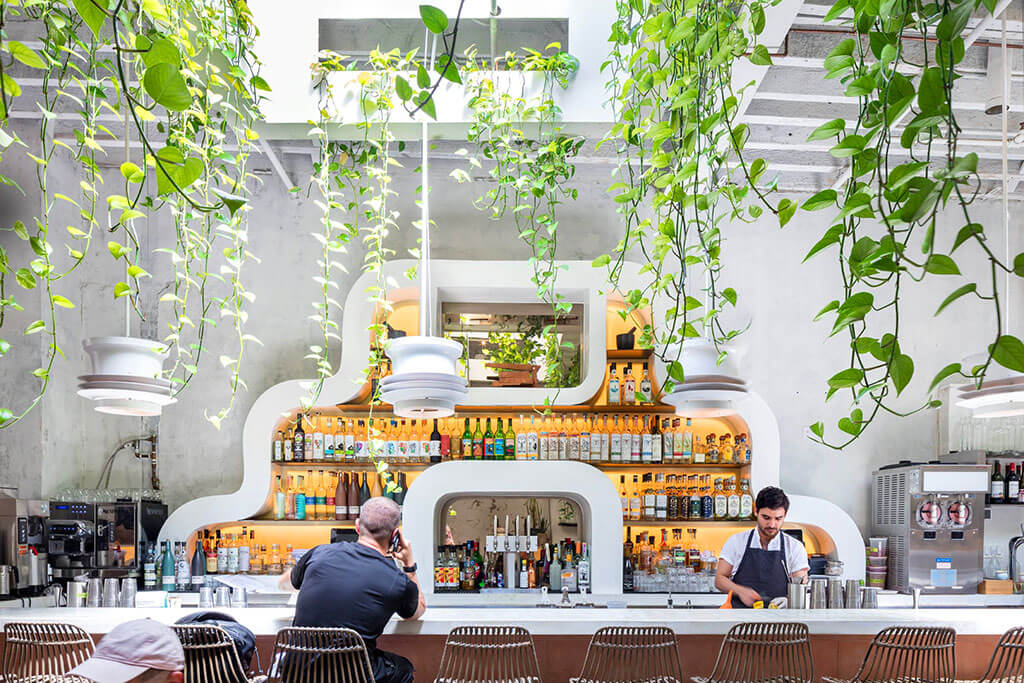 This project, however, required some deep outside-of-the-box thinking to make it sustainable for this Brooklyn restaurant. In the end, the vine display was able to thrive after installing an automated irrigation system to support the lush foliage.
Annabel's
The secluded garden at Annabel's in London is a sight to behold. Inspired by 18th-century Georgian orangeries, the garden is full of lush plants and verdant greenery all year long. The organic shapes produced by trees, plants, and flowers work in harmony within the stricter nature of Palladian architecture.
The secret to their success? A whole lot of capital. Annabel's hired steel architects, Waagner Biro, to weatherproof the garden by constructing a one-of-a-kind retractable glass roof.
Thanks to this remarkable feat of engineering, members can enjoy the garden day or night, rain or shine.
Feast & Fareway
When California's Feast & Fareway underwent renovation in 2018, they needed a structure to separate their dining room and bar area. After collaborating with indoor plant solutions firm, Greenleaf, Feast & Fareway decided on building a 2-sided, moveable, live wall.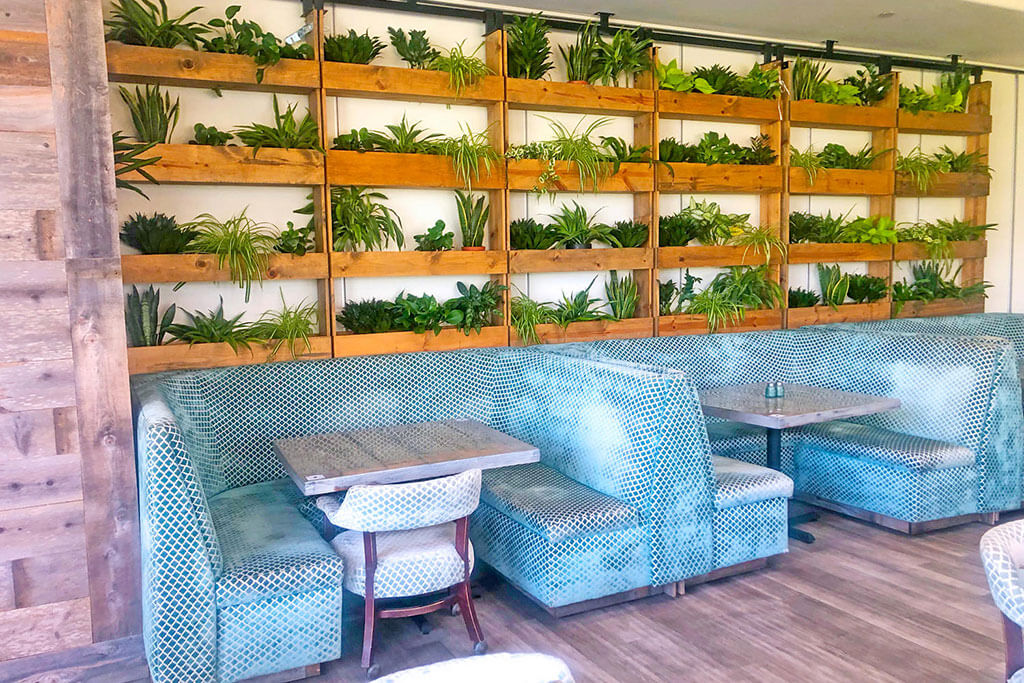 Using reclaimed wood shelving to house all the plants, the restaurant now has its own functional room divider that meshed effortlessly with their interior and created two separate spaces for guests. By choosing to add a functional live wall divider, Feast & Fareway created new opportunities for themselves — the ability to host private parties in their new room.
The live wall brightens up the space and adds a comforting energy to the room with its thoughtful design — a quality a normal wall simply could not provide.
Stories – The Brew Chapter
Welcome to the greenest pub in Bangalore, India. At Stories – The Brew Chapter, designers used 40,000 plants from 108 different species, creating a unique dining and drinking experience.
The Amazonian rainforest vibe, created by Acme Designers, includes a 1000 square foot living wall, neon raindrops cascading from above, and an invigorating journey through trees, plants, shrubs, and herbs.
With the entire space spanning over 25,000 square feet, both plant lovers and beer lovers can rejoice in this verdant rooftop wonderland.
Le Pavillon
In 2021, Daniel Boulud was named Best Restauranteur in the World by Les Grande Table du Monde. Le Pavillon is one reason why.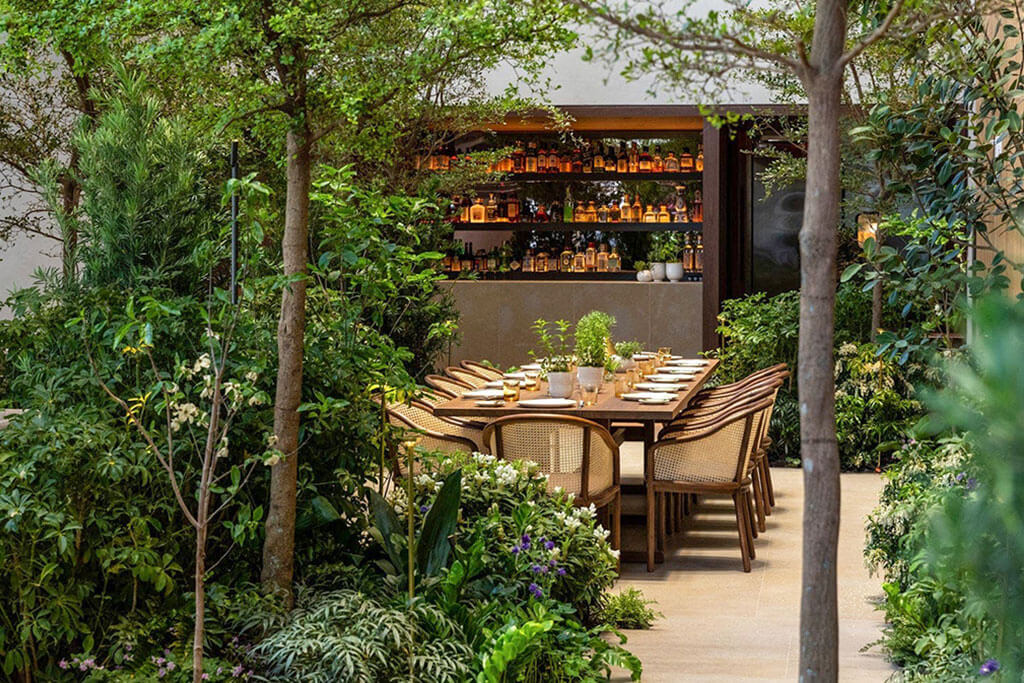 Chef Boulud wanted to recreate a bygone era of French classic restaurants with a modern twist and a focus on health. This 11,000 square foot oasis was designed by Brazilian architect, Isay Weinfeld who followed Chef Boulud's vision to a T.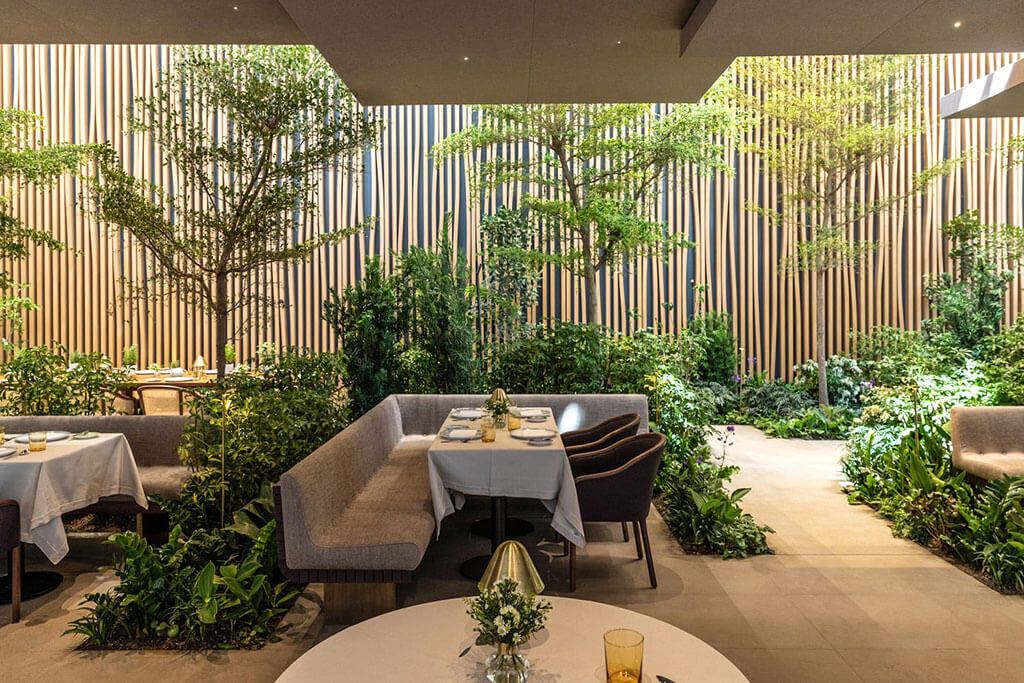 Weinfeld seamlessly blended nature and architecture by using an abundance of live trees and lush greenery including an interior garden path. The ambiance is full of beautiful contradictions: refined yet inviting, elegant yet relaxed.
The interior landscaping of Le Pavillon brings the unexpected into bustling Midtown Manhattan — serenity and a deep sense of natural splendor.
Click here to read Part 1 of our biophilic design series.