What is Induction Cooking?
For decades, a gas stovetop has been the centerpiece of most commercial kitchens. That's about to change. Top chefs throughout the U.S. and beyond are breaking with tradition and switching to induction ranges – an alternative that's safer, more precise, faster, and more efficient.
How It Works
Induction uses electric current to create alternating magnetic fields that push a current against the molecules in induction-ready cookware. The resistance from the molecules then produces heat in the pan, which means the pan itself creates the heat. There's no open flame and no heat produced unless there's a pan placed on the top.
Benefits of Induction
Safer
If there's no pan on the range, there's no heat being produced.
More Accurate
Induction cooktops increase control and accuracy, enabling you to cook by power setting or temperature.
Faster
Nothing is faster. Check out how quickly a Vollrath Induction Range can boil water.
More Efficient
Induction is approximately 90% efficient. Compare that to gas, which is less than 50% efficient.
---
Featured Vollrath Induction Ranges
Mirage Cadet
Supreme Value Perfect for Buffets
The entry-level induction range from Vollrath is packed with a powerful set of features and built to withstand repeated use and transport. If you're shy about including induction cooking in your dining room – start here.
Ideal for: Light commercial, sauté, and non-continuous small stockpot warming.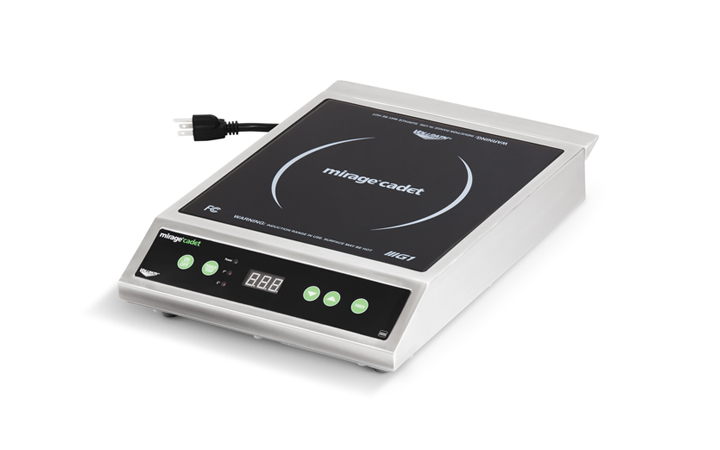 ---
Mirage Pro
Pro Performance for the Front of the House
The Mirage Pro by Vollrath is the flagship induction range and will be the star of your front-of-the-house service. With a next-generation heating engine, 100 power levels, and sleek compact design – the Mirage Pro is ideal for a variety of applications. It comes with a full 2-year warranty.
Ideal for: Light commercial, sauté, and non-continuous small stockpot warming. Preferred by chefs for a variety of cooking techniques.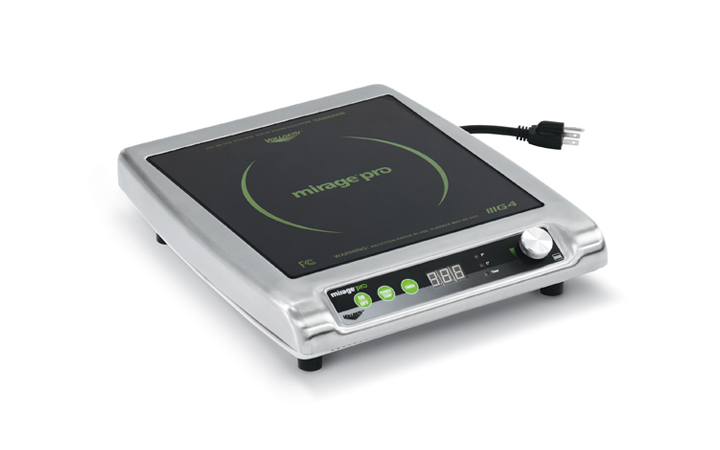 Professional Series
High-Tech Precision Cooking
When you need extreme accuracy for both temperature and time in a medium-volume setting – choose the Professional Series induction range.
Ideal for: Medium-high volumes and speed, high-speed sautéing, and small stockpot and saucepot warming.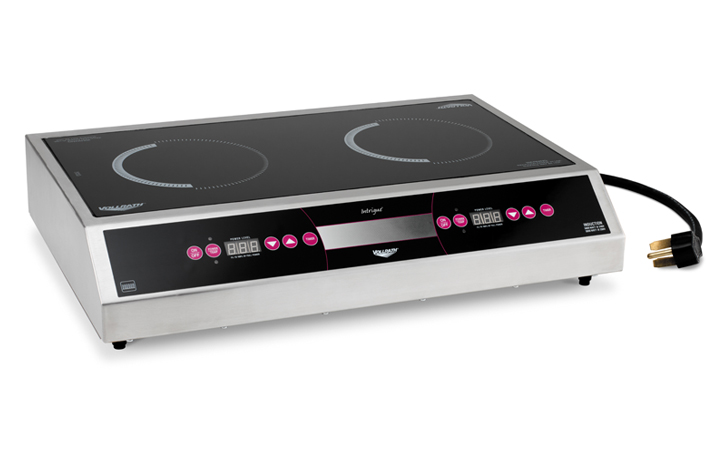 ---
Ultra Series
The Workhorse for Continuous Cooking
Ready for some horsepower? The Ultra Series is made for back-of-the-house continuous volume, continuous duty operations. If you're running a boil all day for pastas and soups, be sure to use an Ultra Series range.
Ideal for: High-volume, high-speed, and continuous-duty stockpot stations.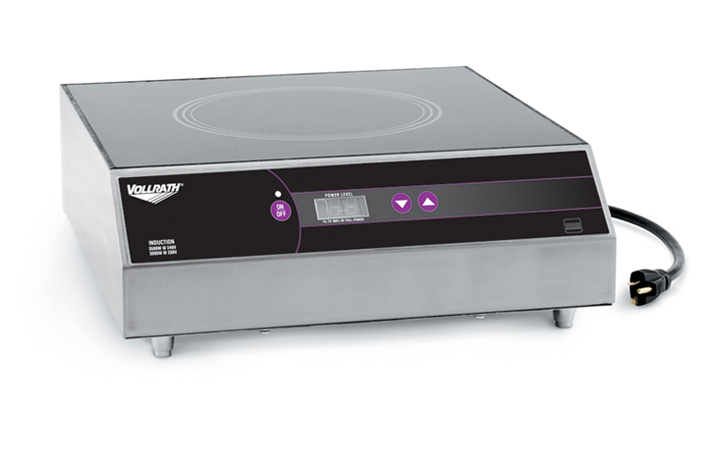 ---
Cayenne HD
The Ultimate Gas-Range Replacement
Take all the benefits of induction cooking and enhance your entire kitchen. Induction eliminates the air consumption tied to gas usage, which can help you save on heating and air conditioning. With 90% efficiency over 50% gas efficiency, imagine how much you could save in fuel costs each year!
Ideal for: Heavy-duty and supplemental back-of-the-house range cooking.
---
Continuous vs. Noncontinuous Cooking
Continuous Cooking: All-day cooking at the back of the house.
Non-Continuous Cooking: Short-term cooking at the front of the house.
Compare Induction Ranges Side-By-Side
Mirage Cadet
Mirage Pro
Professional Series
Ultra Series
Cayenne HD
Output
1,400 - 1,800
Maximum Wattage
1,400 - 1,800
Maximum Wattage
2,900
Maximum Wattage
3,500
Maximum Wattage
11,600
Maximum Wattage
Ideal For
Light commercial, sautéing, and non-continuous small stockpot warming.
Light commercial, sautéing, and non-continuous small stockpot warming. Preferred by chefs for a variety of cooking techniques.
Medium volumes and speed, high-speed sautéing, and small stockpot and saucepot warming.
High-volume, high-speed, and continuous-duty stockpot stations.
Heavy-duty and supplemental back-of-the-house range cooking.
Approx. Top Heating Temperature
460°F
524°F
525°F
550°F
550°F
Efficiency
75%
95%
95%
95%
95%
Power Range Settings
1 to 20
1 to 100
1 to 100
1 to 100
Rotary, 1 to 100
Warranty
1 year
2 years
2 years
2 years
2 years
Chosen By
Hotels, Caterers, Sub shops and delis
Hotels, Caterers, Casual dining restaurants, Quick-serve restaurants, Sub shops and delis, Stadium/arena luxury suites, Businesses and institutions, Pastry chefs
Casual dining restaurants, Quick-serve restaurants, Hospitality (front or back of the house), Cruise ships, Culinary schools, Business and institutions
High-volume hotels, Large-volume restaurants, Cruise ships, Military, Culinary Schools, Top chefs who demand extreme high and low temperature control
Restaurants - fine and casual dining, Hospitality, Colleges/universities, Culinary schools