Looking to boost profits and increase guest satisfaction in your restaurant? Candles are the easiest and fastest way to turn an average dinner into a memorable evening. First, we'll detail the human connection to fire. Then we'll take a deeper look at why incorporating this element onto your tabletop will optimize ambiance and provide an amazing return on investment (ROI).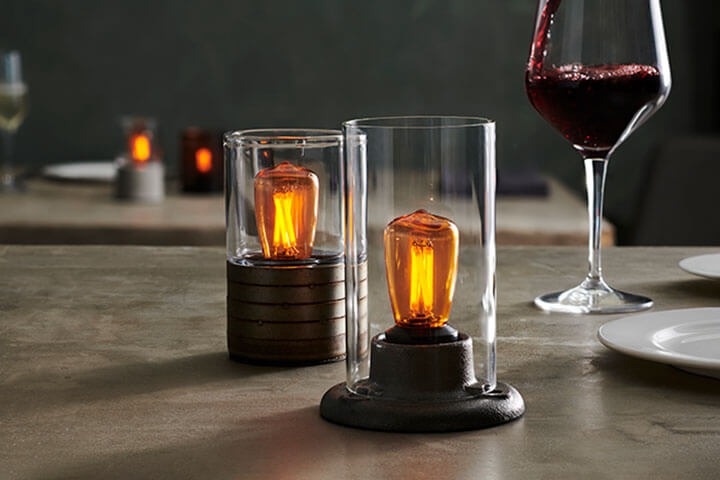 The Relationship Between Fire and Humans
If you were a lucky child, your first associations with fire were birthday candles and making smores around a campfire. Seeing a candle as an adult can trigger these happy associations and memories. However, our relationship to fire goes deeper than that, following us down the path of human evolution itself.
Throughout our continued development, fire has helped the human race reach many of our ancestral milestones: Fire allowed us to survive in colder climates and extended the "shelf life" of meat and other ingredients through cooking and dehydration. At night, fire provided light when we needed it most.
Our admiration for fire's beauty and danger has practically been sewn into our DNA. But that doesn't explain the wonder and captivation we feel when gazing upon a flame. Or does it?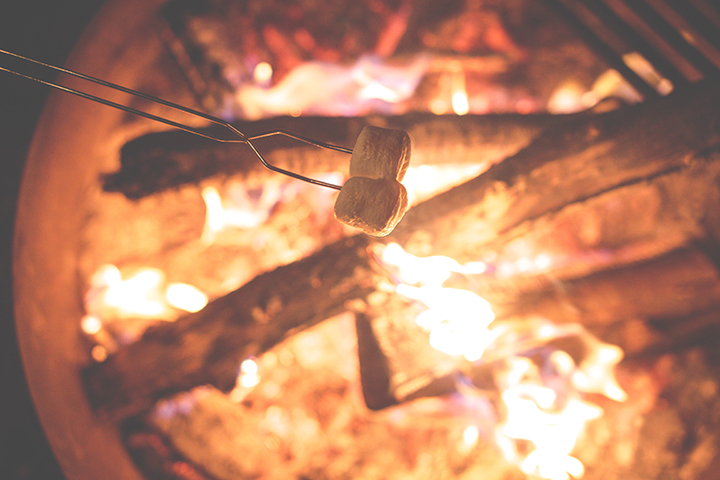 The Psychology of Fire
Gazing at an open flame significantly affects how humans process information. This is because it changes the literal brainwaves we experience at that moment. When humans gaze at a fire, our minds move from an active state to one of creative thought and focus. We become less stressed, thereby enjoying the experience more.
Fire also relaxes people simply because candlelight is flattering. The low-placed light of a table candle eliminates the hard shadows cast by overhead lighting and presents the best version of ourselves. Because candles mimic the amber quality of a setting sun, they impart a warm glow that gives our skin a youthful flush and diminishes the appearance of blemishes and wrinkles. What customer wouldn't love that?
Optimize Your Dining Room Ambiance With Candles
Ambiance is the mood, quality, tone, and atmosphere found inside your restaurant. Examples of sensory experiences that make up positive ambiance could be something as simple as the smell of fresh baked bread or the mouth feel of a high-quality wine glass. A single sensory mistake such as harsh lighting, inappropriate music, or a burned ingredient can greatly affect your patrons' sense of comfort and enjoyment.
Optimized ambiance in your restaurant is directly linked to your patrons' emotional states. A warm and inviting well-lit room delivers the perception of quality to your dinners and sparks a positive emotional response based solely on atmosphere. Fire in the form of candlelight is an easy way for restaurant owners to tweak the mood and feel of their dining room, whether it be year round or just for special occasions.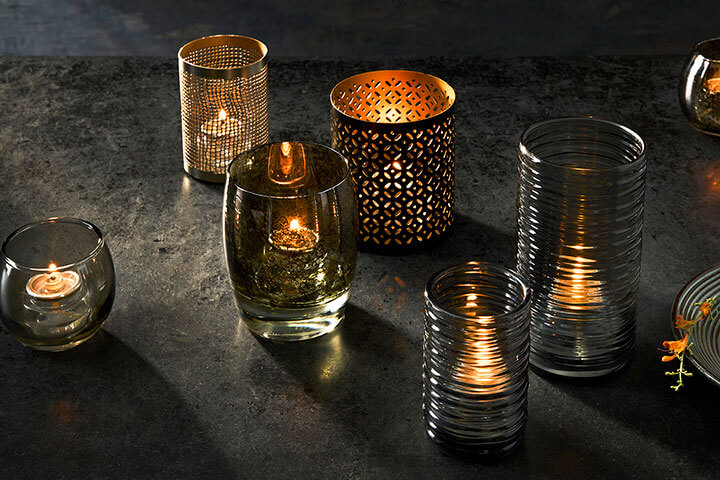 Lower the Lights to Increase Profits
Creating ambiance begins with lighting because it has the greatest potential for impacting the mood of your guests. The easiest and most affordable additions to your restaurant that immediately impacts ambiance are candles. Aside from having an immediate impact on our happiness, candles excel where bright light falls short:
Bright light makes many people feel more alert and agitated.
We are more focused and aware of our choices under bright light. Bright light is intentionally used to get people in and out quicker. Our choices are less focused on indulgence and more focused on health and practicality.
We feel more vulnerable to social pressures and being judged by self and others.
We eat quickly and feel the urge to leave as soon as we are done.
We consume less calories when dining in bright light and spend less money. Guests tend to not linger for drinks and desserts over relaxed conversation.
Bright light raises our inhibitions.
Essentially, bright light can lead to less profit. Because low ambient lighting with candles encourages indulgence, our guests are more relaxed and can focus on savoring the food and enjoying good company while feelings confident and receptive.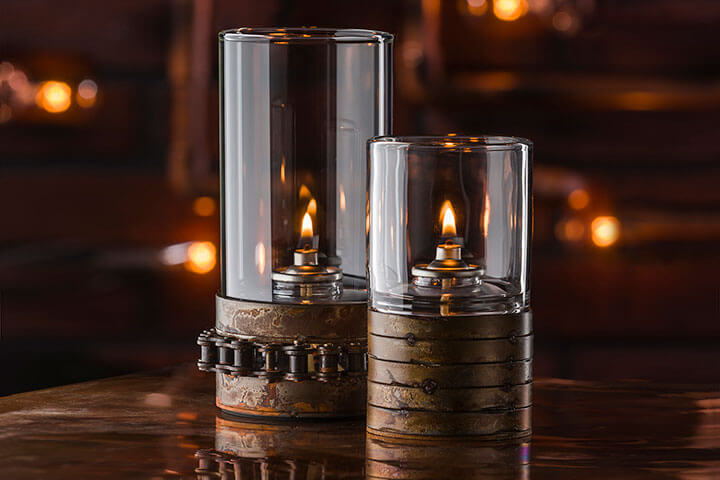 Wax Candles vs. Liquid Candles
Commercial candle technology has made leaps and bounds for our industry. For applicable venues, we recommend liquid candles over standard wax candles for the following reasons:
Cleaner: Keep your operation simple with no waxy table messes.
Safer: Premium brands, such as Hollowick, use non-flammable liquid fuel. Unlike a regular candle, knocking over a liquid candle in use isn't a fire hazard.
Cost effective: Liquid candles require less maintenance from your staff and are more durable than wax candles as they eliminate thermal shock breakage. Liquid candles are also highly cost effective, burning at pennies on the dollar per hour.
Long lasting: Liquid candles won't burn out during service, unlike wax candles that are easily extinguished.
Cleanup is a breeze: Liquid candles maintain a tidy appearance with no waxy mess to clean up.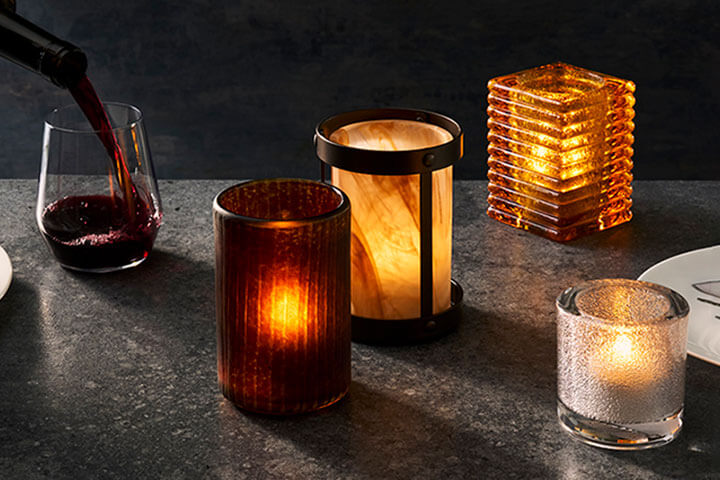 Romantic Candle Lighting Pays Off
Candlelight dining will allow your guests to feel more relaxed and confident by providing flattering lighting. Create a positive emotional impact when patrons step into your establishment, while strengthening your bottom line with the simple addition of candles.

Partnered with Steelite & Hollowick
Steelite International is the leading designer, manufacturer, and supplier of award-winning tabletop and buffet products for the global hospitality industry. With the addition of Hollowick, we have expanded our offering to provide top quality lighting and food warming solutions that are designed & created in the USA. Enclosed you will find a wide variety of lighting solutions including no-mess liquid candles, style-forward candle holders, food heating products, and so much more. Alongside Steelite International, Hollowick will create an ambience for the table that is unforgettable.
LAMPS
superior performance in tabletop lighting
Hollowick is committed to providing the best products and service to the foodservice trade since the founding in 1971. As a leading manufacturer of tabletop lighting for the commercial foodservice industry, Hollowick lamps will create an ambiance and presentation that keeps guests coming back again and again.
wide variety of unique finishes
From clear glass to ruby gold, glass lamps bring beauty & tranquility
Enhance the beauty of a lamp with resin or wood bases
Candlesticks with fabric lamp shades provide high end appeal
Create an industrial look with hammered & geometric metal lamps
CANDLES
From disposable liquid candles to solid wax candles, Hollowick will set the mood for your table. Paired with a Hollowick lamp, the liquid candles provide candlelight without the melted wax mess, and are offered in a variety of sizes to accommodate burn time and level of light. Each liquid candle is nonhazardous & disposable, making a convenient option for operators to simply remove & replace. Hollowick solid wax candles are a traditional favorite, and have the finest quality & reliability in foodservice.
significant advancements designed & created at Hollowick
Refillable liquid candle systems
Disposable liquid candles
Highlight liquid candles
Liquid tealight & votive candles