Texture is sacrosanct in the foodservice industry. For instance, the texture of food often plays just as important a role as the flavor; texture helps to shape our perception of whether a particular food is good or bad or whether we like or dislike it. Likewise, sensory elements your guests interact with throughout their dining experience play just as important a role as the meal itself. This rings especially true for dinnerware.
Influential visual and tactile characteristics of culinary presentation elevates a dish and the overall dining experience for your guests. Pair the right texture with the right food, and the magic will happen. A complimentary textured design can even make food taste better. For your inspiration, here are four melamine dinnerware lines inspired by textures of natural elements: stars, oceans, rivers, and trees.
Star Dust Commercial Dinnerware
Who says space matter can't be beautiful? When intergalactic refractory minerals condense as matter, they create awe-inspiring swirls, otherwise known as star dust. The Star Dust dinnerware line celebrates the art of stars and comes in three colors worthy of the cosmos: stardust green, blue, and white.
Star Dust commercial dinnerware creates a melodic contrast by intermeshing matte and glossy swirled textures on the surface. Then, to round out the design, each piece has a matte finish on the bottom. Swirling space matter is wonderous and out of our reach, which instinctively activates the imagination. Naturally, Star Dust inspires creative plating, either as a set, mixed and matched with different colors, or as an eye-catching accent piece.
Hermosa Commercial Dinnerware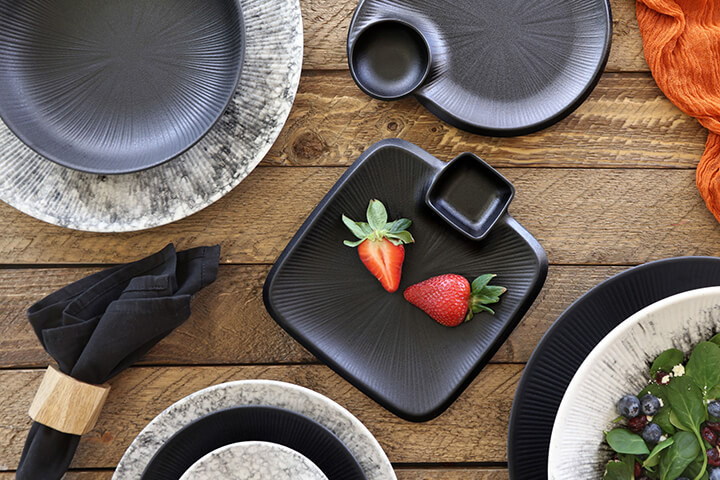 This next dinnerware line is named after Hermosa Beach, a quintessentially Californian area that is sunny an average of 325 days a year. The word "hermosa" is also Spanish for "beautiful," and this dinnerware is no exception.
Hermosa commercial dinnerware features a raised sunburst texture, taking its cue from sunny Hermosa Beach in California. The sunburst interpretation is sophisticated more than literal, much like viewing sunbeams or bursts of light on black and white film. Further into the beach theme, its stoneware appearance is reminiscent of shells found on Hermosa Beach. However, looks can be deceiving.
This dinnerware isn't actual stoneware, but durable, heavyweight melamine that is perfect for restaurants. Hermosa's unique black and white sunburst texture brings food to the forefront when paired with a flush of vibrant color. Truthfully, even placing a single strawberry on a Hermosa plate is an instant work of art. This line allows your culinary kitchen masters to create a dish so visually stimulating, you may as well be the sun.
Pebble Creek Commercial Dinnerware
This next line of textured dinnerware is reminiscent of perfectly formed pebbles glistening in a creek bed. Pebbles are formed by their abrasive transportation through a river or stream. As they collide and create friction with one another, their smooth, round shapes are created.
As you can see, Pebble Creek commercial dinnerware features a raised pebble texture with a glossy surface. The organic glossy texture is also reminiscent of sunlight reflecting on river rocks. Pebble Creek creates an emotional and physical connection to an aesthetic creek: remembering the peaceful sound of water; cool, refreshing air; and a choice of nine complimentary earth colors to fine tune your culinary presentation. Because of its reference to nature, this line is perfect for outdoor garden dining, rustic chic presentation, or featured in an indoor space with ample plant life.
Also reminiscent of the strength of stone, the porcelain-esc Pebble Creek dinnerware line, as well as all of Elite Global Service's melamine dinnerware lines, are scratch, chip, and break resistant. So, your dinnerware will continue to appear brand new throughout its long lifecycle.
Greenovations Commercial Dinnerware
Breathe some new life into your foodservice establishment by capitalizing on the #1 trending topic at the National Restaurant Association's annual convention: sustainability.
Greenovations commercial dinnerware is a line of sustainable dinnerware made with 50% melamine and 50% bamboo. The design is then perfected with an upscale matte linen texture. Despite being 50% bamboo, Greenovations can hold their own with a long lifecycle that rivals the most durable melamine commercial tableware from EGS.
Greenovations uses a minimalist and naturalist design schema whose clean confidence inspires relaxation. Its simple linen texture and complimentary selection of earth colors showcases your culinary delights by taking a step back to elegantly call attention to details of the dish itself. It is the perfect backdrop for farm-to-table plating, rustic or prairie themes, and to visually communicate your restaurants forward thinking towards sustainability.
Elevate Your Guest Experience With Textured Dinnerware
Textured dinnerware sets you apart from the competition. Whether your food is most compatible with celestial bodies, the brilliance of the sun, a quiet creek, or refined sustainability, texture will elevate the guest experience. Have you incorporated texture dinnerware into your foodservice establishment? Let us know in the comments!
About EGS
Elite Global Solutions is a world-class international leader of premium melamine products. Our greatest desire is to cultivate the kind of creativity that can impart visual and culinary merchandising solutions for all our customers.
We are the leader, not the follower, in creative designs for the foodservice industry. Our products are the highest quality. They are 100% pure melamine and exceed all certification requirements. Our dinnerware lines are tested by NSF, SGS and Intertek for safety and hazardous material.
When you choose Elite Global Solutions products, you are choosing the classic look of porcelain, stoneware, marble and wood without the breakage. All dishwasher safe and designed to handle both hot and cold food applications. Our products are used by many of the world's forward-thinking hotels, restaurants, foodservice operators, supermarkets and caterers.