The Mystery: Why do you eat slices shaped like triangles from a pie shaped like a circle that was delivered in a square box?
It's a question as old as time. Well, at least as old as pizza. But the question takes on new urgency in today's eco-conscious culture. Square pizza boxes might not be public enemy #1 but they sure aren't doing the planet any favors.
You might be thinking, "Hey, I can just recycle that cardboard pizza box." You might want to think again. Many local communities do not accept pizza boxes for recycling because they are often contaminated with pizza grease. Some communities have gone so far as to require pizza places to use an internal liner to mitigate this problem, but that adds expense for the operator. What can be done?
Enter The Round Box
Pizza Hut partnered with Zume, a company pioneering the shift to a more sustainable future of food, to design a way to put a round pizza in a round box. Not only does the round box contain less overall packaging compared to a typical square pizza box, but it's also industrially compostable (where available) and interlocks easily to ensure a smoother delivery. In other words, no pizza insurance policy needed and freed up space in the fridge for leftovers.
The new round box is being tested at a single Pizza Hut location in Phoenix. Following the event in Phoenix, Pizza Hut will look at ways to roll the box out more widely in the near future.
"This revolutionary round box—the result of a two-year journey—is the most innovative packaging we've rolled out to date," said Nicolas Burquier, chief customer & operations officer, Pizza Hut. "The round box was engineered to make our products taste even better—by delivering hotter, crispier pizzas. This box is a win, win—it will improve the pizza-eating experience for our customers and simplify the operating experience for our team members."
"Pizza Hut is an undisputed leader in its use of technology to deliver on its promise of hot, fast and reliable food," said Alex Garden, Chairman and CEO of Zume, Inc. "We're thrilled to support Pizza Hut's packaging efforts to provide its fans with a great pizza-eating experience."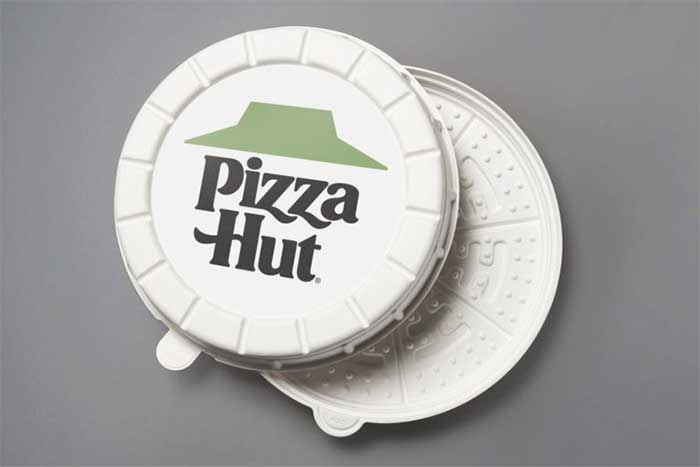 Topped Off With a Special Logo
Gracing the top of the new round box is a special green roof logo. Replacing Pizza Hut's iconic red roof logo is a big deal. It emphasizes the importance the company is placing on these types of eco-friendly initiatives.
The new round box design should be a winner for several reasons. First, it's simply less packaging. Less packaging means less waste that has to be dealt with.
Second, it is compostable. This sidesteps the traditional pizza box's greatest drawback. If you can't recycle the old cardboard pizza box, it probably ends up in a landfill. That isn't a good solution for anyone.
And there are operator benefits as well. Since the box is compostable, there is no need for a liner. And the smaller, round boxes are nesting and stackable which should save storage space in the kitchen (not to mention in your home refrigerator as the mention above).
There really doesn't seem to be any drawback to moving pizza packaging in this direction. Let's hope other operators take a cue from Pizza Hut and jump on the round box bandwagon.
And Pizza Hut isn't the only company experimenting with pizza box innovations. The Canadian pizza chain, Boston Pizza, is rolling out a holiday box that sings you a Christmas carol when you open it. No word on whether it is compostable.