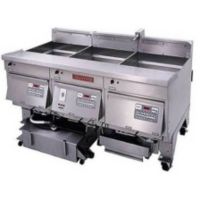 Ultrafryer/Far West Parts Buy Ultrafryer® / Far West replacement parts and repair parts at Wasserstrom. Find chicken fryer parts, countertop fryer parts, battering tables, and more Ultrafryer® / Far West appliance parts. Get OEM Ultrafryer® / Far West parts like heating elements, standpipe and batter table assemblies, temperature probes and more parts. Put your Ultrafryer® / Far West equipment back in exquisite working condition at an affordable price.
For additional information and specifications about Wasserstrom's equipment parts, please contact our Customer Service department at 1-877-425-8906.
More
Ultrafryer® Parts
Buy Ultrafryer® equipment parts online at Wasserstrom.com today. Get the parts you need from Wasserstrom for your Ultrafryer® fryer. Find Ultrafryer® filter screens and baffle filters and hoses at Wasserstrom.com.
Order Your Ultrafryer® Food Processor Parts
Order Ultrafryer® parts today, and have your Ultrafryer® parts arrive within a few days. Ordering online is easy and fast, with more items shipped out in one to two business days. If you have any questions about our collection of Ultrafryer® equipment parts, or would prefer to place your restaurant supplies order by phone, please contact Customer Service.