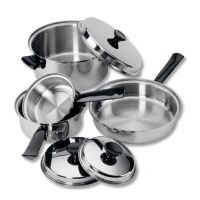 Tri-Ply Cookware
Tri-ply commercial cookware is stainless steel elevated by an aluminum core. The aluminum core improves heat distribution for an even cook every time.
As with traditional stainless steel, tri-ply is a nonreactive metal that is excellent when heating highly acidic foods. Use it on your commercial stove top, in the oven, or under the broiler.
Like regular stainless-steel pans, if tri-ply cookware is cleaned and maintained properly, it will last forever. For example, make sure stainless-steel cookware has cooled prior to washing and always dry immediately after washing to maintain its shiny appearance.
Experience the superior thermal conductivity of Tri-ply through our collection of fry pans, sauce pans, stock pots, paella pans, and more!
Stock Up, Save MoreSpend $200, Save $30 → Spend $250, Save $50 → Spend $300, Save $75
Use Code: SAVEMORE // Excludes Wusthof & Lodge