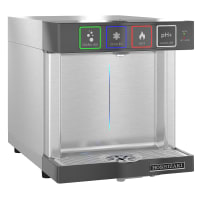 Touchless Equipment & Dispensers
Touchless equipment has been popular for years, and the demand for touchless dispensers is only on the rise. Touchless sinks and soap dispensers are great for bathrooms and break rooms. Their convenience makes it easier for people to wash their hands with soap and water without the fear of touching public surfaces.
Hands free sinks are great for supplying wash-stations around your facility. Again, the more convenient it is to wash your hands, the more your employees will do it even when no one is watching.
Touchless beverage dispensers are another great way to reduce possible contamination from someone who may otherwise leave a bacteria or virus on the surfaces they use. Hands free beverage dispensers are great for customer facing, self-serve options. Automatic drink dispensers are also great for employee break rooms and cafeterias.
Product List
Item #: 6085530

Model #: TG-100

By: Bon Chef

Sold As: Each

Item #: 6085533

Model #: TG-100-PA

By: Bon Chef

Sold As: Each

Item #: 6085536

Model #: TG-100-ST

By: Bon Chef

Sold As: Each

Item #: 6092012

Model #: TG-CB-1200

By: Bon Chef

Sold As: Pack of 1200

Item #: 6092228

Model #: TG-CB-9600

By: Bon Chef

Sold As: Case of 9600