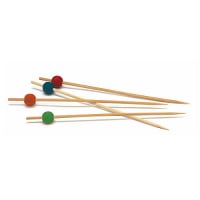 Straws Swords and Picks
Shop drink straws and picks at Wasserstrom. Garnish drinks with our collection of picks. Get bamboo picks, wooden picks, ball picks, and more disposable picks. Also check out our collection of stirrers and a wide variety of straws for all of your drinking needs. Get your straws, picks and drink swords online at Wasserstrom.com.
More
Straws, Swords, and Picks
To make martinis, margaritas, and other drinks, you need picks and swords for garnishment. Wasserstrom.com has a great selection. Shop Wasserstrom for all your bar supplies, including glass rimmers, cocktail shakers, and jiggers needed to mix up great drinks. Shop the affordable selection of bar supplies at Wasserstrom.com to keep your bar well stocked.
Shop Straws, Swords, and Picks Today
Order straws, swords, and picks for your bar or restaurant today and get it all at an affordable price. Ordering online at Wasserstrom.com is easy and fast, with more items shipped out in one to two business days. If you have any questions about our cocktail shakers, jiggers, and other bar supplies, or would prefer to place your bar supplies order by phone, please contact Customer Service.
Product List
Item #: 6021510

Model #: AST014BKB82

By: Front Of The House

Sold As: Bag of 100

Item #: 6021511

Model #: AST014GOB82

By: Front Of The House

Sold As: Bag of 100

Item #: 6021512

Model #: AST014SIB82

By: Front Of The House

Sold As: Bag of 100

Item #: 6000605

Model #: TS8888-BL

By: Unique Mfg

Sold As: Box of 2000

Item #: 6000585

Model #: 4.5-UMC-KBP

By: Unique Mfg

Sold As: Bag of 100

Item #: 6000584

Model #: 3.5-UMC-KBP

By: Unique Mfg

Sold As: Bag of 100

Item #: 449732

Model #: AST013MUB83

By: Front Of The House

Sold As: Bag of 100