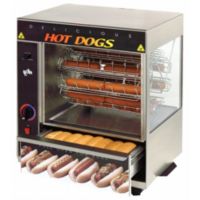 Star Manufacturing Recognized world wide by Foodservice and Concession operators, Star® Foodservice Equipment is designed and manufactured to meet the highest commercial standards. Their
Popcorn Machines
, specialty
Food Warmers
, Hot Dog Rollers and
Toasters
are known for their quality and durability.
For additional Large Equipment information or specifications, please contact our Customer Service department at 1-877-425-8906.
More
Star® Manufacturing
Purchase Star® Manufacturing equipment online at Wasserstrom.com. Find innovative, top-quality equipment from Star® for your concession stand or kitchen. Get Star® griddles, Star® hot dog grills and steamers, Star® popcorn machines, Star® waffle bakers and more Star® Manufacturing equipment. Also, checkout our comprehensive collection of Star® equipment accessories and Star® Manufacturing parts for all of your Star® Mfg equipment.
Order Your Star® Hot Plates and Star® Toasters
Order your Star® toasters, Star® warmer drawers and Star® hotplates today, and have your Star® Manufacturing equipment arrive within a few days. Ordering online is easy and fast, with more items shipped out in one to two business days. If you have any questions about our collection of Star® equipment, or would prefer to place your restaurant supplies order by phone, please contact Customer Service.