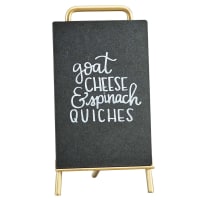 Employee Signs, Menu Clips & More Restaurant Signage No establishment can provide service today without the proper signs. Whether you're looking for menu boards to advertise your daily specials, menu holders, or other employee signs, you'll find what you need at Wasserstrom. From
write-on boards
to menu clips, you'll find the restaurant supplies and equipment you need at affordable prices.
More
Employee Signs
When communicating with employees, signs are an important and necessary tool. Employee signs remind your team where to place merchandise and stock items, as well as reinforce rules and regulations. They can help prevent accidents by warning of potential hazards, like hot oven and wet floors, too.
Menu Boards, Menu Holders & Menu Clips
Tempt your regulars into trying something new by advertising your daily specials on a menu board. Or make a good impression on your guests by keeping your dining area orderly using a variety of menu holders, table tents and menu clips. Choose from a wide variety of write on boards and other signage that will help make your establishment run more smoothly and effectively.
Order Your Write On Boards & More Today
Order your menu holders, menu boards and other employee signage today, and they'll be delivered within a few days. In fact, most items ship within one to two business days. Ordering online is the easiest and fastest method. However, if you have questions about our employee signage and restaurant supplies, or would prefer to place your order by phone, please call Customer Service.