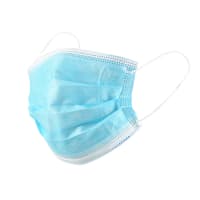 Personal Protective Equipment (PPE)
The use of Personal Protective Equipment (PPE) has become more common in day to day business operations. As restaurants, bars, and commercial kitchens become increasingly focused on operating in a clean, sterile environment, it's important to have the necessary equipment and supplies on hand.
Face shields protect against accidental sneezes and coughs, preventing the spread of germs and viruses. Face masks and hair nets help ensure food prep ingredients and takeout containers stay free of accidental contamination. And for those wanting to take contamination prevention to the next level, we offer disposable body gowns and shoe covers.
Personal Protective Equipment (PPE) allows you to ensure your foodservice business reduces the risk of contaminating meats, veggies, and other valuable ingredients. Stocking PPE supplies for your employees means creating a safer environment for them and your customers.
Product List
Item #: 6085630

Model #: 5000507

By: Darling Food Service

Sold As: Case of 1000

Item #: 6085632

Model #: 5000508

By: Darling Food Service

Sold As: Case of 1000

Item #: 6084588

Model #: 5000360

By: Darling Food Service

Sold As: Pack of 50

Item #: 6085116

Model #: CN420LMSK014

By: Snap Drape

Sold As: Pack of 25

Item #: 6085310

Model #: CN420LMSK011

By: Snap Drape

Sold As: Pack of 25

Item #: 6085214

Model #: 5000662

By: Darling Food Service

Sold As: Pack of 10

Item #: 6082311

Model #: 5000383

By: Darling Food Service

Sold As: Pack of 12

Item #: 6081700

Model #: 5000373

By: Darling Food Service

Sold As: Case of 300