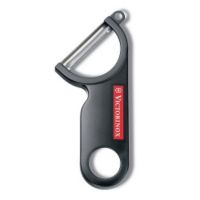 Peelers Shop for apple peelers, potato peelers, vegetalbe peelers, ergonomic peelers and Y peelers from manufacturers like OXO, Ekco and Victorinox. Find a vegetable peeler that fits your kitchen needs and buget at Wasserstrom.com.
More
Kitchen Peelers
If you need to peel vegetables, fruit or others check out of collection of swivel peeler, apple corer, Y peeler, swivel vegetable peeler and more cooking utensils and kitchen utensils.
Order Your Peelers
Order your kitchen peelers today, and have them arrive within a few days. Ordering online is easy and fast, with more items shipped out in one to two business days. If you have any questions about our peelers and kitchen utensils, or would prefer to place your restaurant supplies order by phone, please contact Customer Service.
Save 10% When You Buy 3+ Kitchen Utensils – Mix & Match!