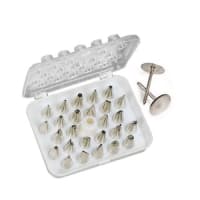 Pastry & Decorating Tips Shop for standard pastry decorating tubes, open star decorating tips and decorate your cakes and cookies like a professional. We carry lots of quality pastry tips from trusted manufacturers like Ateco and Bakery Crafts. Add
cake pans
to finish your baking needs.
More
Pastry & Decorating Tips
Select the
Pastry & Decorating Tips
that will assist in finishing the pastries. Choose from a variety of types and sizes. Shop for additional
pastry bags
at Wasserstrom.
Order Bundt Pans and Pastry Tips
Select your bundt pan or the
Pastry & Decorating Tips
today and have your Products arrive within a few days. Ordering online is easy and fast, most In-Stock items ship out in 2-3 business days. For exact Shipping Estimates, please contact Customer Service. If you have any questions about our collection of Baking Products or would prefer to place your
restaurant supplies
order by phone, please contact
Customer Service
.
Product List
Item #: 257867

Model #: 133S

By: August Thomsen

Sold As: Each

Item #: 281692

Model #: 4S

By: August Thomsen

Sold As: Each

Item #: 766846

Model #: 18S

By: August Thomsen

Sold As: Each

Item #: 877973

Model #: 104S

By: August Thomsen

Sold As: Each

Item #: 981306

Model #: 48S

By: August Thomsen

Sold As: Each

Item #: 6000866

Model #: 887

By: August Thomsen

Sold As: Each

Item #: 379005

Model #: 133

By: August Thomsen

Sold As: Each

Item #: 113607

Model #: 856

By: August Thomsen

Sold As: Each

Item #: 113609

Model #: 789

By: August Thomsen

Sold As: Each

Item #: 113612

Model #: 828

By: August Thomsen

Sold As: Each

Item #: 113615

Model #: 6

By: August Thomsen

Sold As: Each

Item #: 113617

Model #: 849

By: August Thomsen

Sold As: Each

Item #: 113620

Model #: 858

By: August Thomsen

Sold As: Each

Item #: 113681

Model #: 121

By: August Thomsen

Sold As: Each

Item #: 113682

Model #: 847

By: August Thomsen

Sold As: Each

Item #: 113693

Model #: 108

By: August Thomsen

Sold As: Each

Item #: 113698

Model #: 823

By: August Thomsen

Sold As: Each