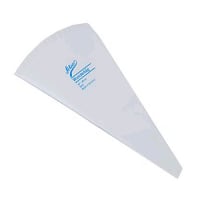 Pastry Bags Find canvas, nylon, or plastic pastry bags at Wasserstrom. We have pastry bags from Johnson Rose, J.B. Prince and Ateco.
More
Pastry Bags
Select the
Pastry Bags
that will assist in finishing the pastries. Choose from a variety of types and sizes. Shop for additional
cooling racks
at Wasserstrom.
Order Bundt Pans and Cake Pans
Select your bundt pan or the
cake pans
today and have your Products arrive within a few days. Ordering online is easy and fast, most In-Stock items ship out in 2-3 business days. For exact Shipping Estimates, please contact Customer Service. If you have any questions about our collection of Baking Products or would prefer to place your
restaurant supplies
order by phone, please contact
Customer Service
.
Product List
Item #: 248260

Model #: 465

By: August Thomsen

Sold As: Pack of 12

Item #: 583116

Model #: 50002.47370

By: Thermohauser Of America

Sold As: Pack of 100

Item #: 583121

Model #: 50002.47320

By: Thermohauser Of America

Sold As: Pack of 100

Item #: 235484

Model #: 50003.47287

By: Thermohauser Of America

Sold As: Box of 100

Item #: 113652

Model #: 3110

By: August Thomsen

Sold As: Each

Item #: 113614

Model #: 3312

By: August Thomsen

Sold As: Each

Item #: 113661

Model #: 3214

By: August Thomsen

Sold As: Each

Item #: 277437

Model #: 3014

By: August Thomsen

Sold As: Each

Item #: 113662

Model #: 3216

By: August Thomsen

Sold As: Each

Item #: 124000

Model #: 3218

By: August Thomsen

Sold As: Each

Item #: 277436

Model #: 469

By: August Thomsen

Sold As: Pack of 100

Item #: 383939

Model #: 3018

By: August Thomsen

Sold As: Each