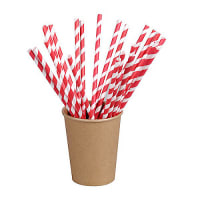 Paper Straws Shop for eco-friendly, food safe, FDA food grade compliant paper drinking straws at Wasserstrom.com. We carry durable paper straws in basic white, black and fun striped colors for your restaurant or bar. Do your part to help the environment and replace your plastic straws with some more environmentally friendly paper drinking straws today.
More
Paper Straws
Select the Black Straws or Wrapped Straws that you need for your restaurant or bar at Wasserstrom.com. You can select from a variety of colors and sizes. And don't forget to order the disposable napkins.
Order Disposable Drinking Cups
Select your paper napkins and disposable drinking cups today and have your products arrive within a few days. Ordering online is easy and fast, most In-Stock items ship out in 2-3 business days. For exact Shipping Estimates, please contact Customer Service. If you have any questions about our collection of kitchen supplies or would prefer to place your restaurant supplies order by phone, please contact Customer Service.
Product List
Item #: 6060117

Model #: 600250

By: Hoffmaster

Sold As: Case of 5000

Item #: 6060104

Model #: 600194

By: Hoffmaster

Sold As: Case of 3200

Item #: 6060106

Model #: 600197

By: Hoffmaster

Sold As: Case of 4800

Item #: 6104821

Model #: ST-PA-8-K

By: World Centric

Sold As: Case of 6000

Item #: 6104822

Model #: ST-PA-10-K

By: World Centric

Sold As: Case of 6000

Item #: 6064674

Model #: 5000461

By: Darling Food Service

Sold As: Pack of 500

Item #: 6064670

Model #: 5000207

By: Darling Food Service

Sold As: Pack of 500

Item #: 6062348

Model #: 5000460

By: Darling Food Service

Sold As: Pack of 500

Item #: 6062241

Model #: 5000459

By: Darling Food Service

Sold As: Pack of 500

Item #: 6064671

Model #: 5000208

By: Darling Food Service

Sold As: Pack of 300

Item #: 6063872

Model #: 210CHP19EMBR

By: PackNWood

Sold As: Case of 6000

Item #: 6060114

Model #: 600195

By: Hoffmaster

Sold As: Case of 4800

Item #: 6060110

Model #: 600252

By: Hoffmaster

Sold As: Case of 1500

Item #: 6082901

Model #: 100110

By: Tablecraft Products

Sold As: Pack of 500

Item #: 6109254

Model #: 600263

By: Hoffmaster

Sold As: Case