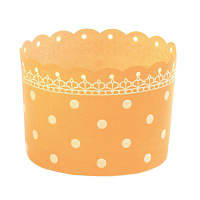 Paper Bakeware
Shop for oven safe disposable baking cups, muffin cups, cupcake liners, loaf baking pans, mini loaf baking pans, cake pans and other decorative disposable baking liners from manufacturers like Welcome Home Brands. Find a great selection of paper baking cups and plastic baking cups at Wasserstrom.com.
More
Disposable Paper and Plastic Bakeware
Buy paper and plastic bakeware online at Wasserstrom.com for your kitchen today. Find paper baking cups, paper loaf pans, paper baking cones, and more paper and plastic bakeware. Get the convenience of disposable bakeware from Welcome Home Brands.
Order Disposable Paper and Plastic Bakeware
Order plastic baking cups and pleated baking cups, and other disposable paper or plastic bakeware and have your items delivered to your door within a few days. Ordering online is fast and easy, with more items shipped out in one to two business days. If you have any questions about our collection of kids menu items, or would prefer to place your restaurant supplies order by phone, please contact Customer Service.
Product List
Item #: 6072353

Model #: 210CPST2J

By: PackNWood

Sold As: Case of 1200

Item #: 6051605

Model #: 209CPST1M

By: PackNWood

Sold As: Case of 1000

Item #: 283079

Model #: 500255

By: Bunzl

Sold As: Case of 1000