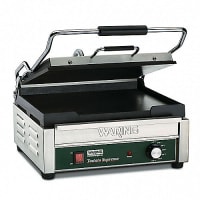 Panini Grills & Sandwich Presses
Panini grills and presses are a great way to expand your menu. If you are a deli, you may have more than one. People love sandwiches and capturing your unique style and flavor in a sandwich press will offer your customers great lunch options.
The benefits of having a panini grill in your venue goes far beyond sandwiches. Commercial panini presses can be used on a variety of meats such as fish, steaks, chicken and more. Mexican restaurants can use them to grill tortilla shells, and appetizers can be finished and crisped with attractive char-lines. Fast shipping, in stock and ready to ship!
More