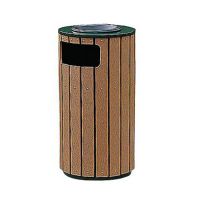 Outdoor Waste Containers Outdoor garbage cans at Wasserstrom. Find attractive outdoor trash cans from Rubbermaid® for the front entrance of your business. Get open lid waste containers, funnel top outdoor garbage cans, and more outdoor waste containers.
More
Outdoor Trash Containers
Shop Wasserstrom for outdoor trash containers today. Wasserstrom.com has a great selection of outdoor trash containers for use in parks, shopping malls, and outside your business. Shop Wasserstrom's collection of outdoor waste containers from Rubbermaid® and Continental Manufacturing. Shop Wasserstrom.com also for indoor trash containers and more trash containers.
Order Outdoor Trash Containers Today
Order an outdoor trash container from Wasserstrom.com today and it will be delivered right to your door. Ordering online is easy and fast, with more items shipped out in one to two business days. If you have any questions about our collection of janitorial products, or would prefer to place your restaurant supplies order by phone, please contact Customer Service.