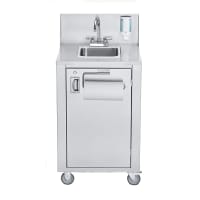 Mobile Sinks and Handwashing Stations
Make handwashing with soap and water easy and accessible for employees and staff to matter how far they are from a water source. Cambro handwashing stations are great for adding paper towels and soap dispensers to 2 ½ - 5 Liter beverage dispensers. Perfect for outside food trucks and concession stands.
Full size, portable handwashing sinks are also available for when you need a commercial, versatile handwashing station available at all times. With handwashing increasing in all businesses and venues, don't allow a lack of water to stop you from having soap and water available everywhere you need it.