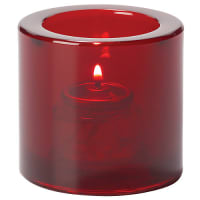 Lighting
Candles and table lamps bring a touch of sophistication and romance to your table. Find the perfect votive, hurricane or pillar candle to match your decor here. Select your style of lighting from some great brands like Hollowick®, The Amazing Flameless Candle® and Sterno® Products.
More
Lighting and Candles
Illuminate your dining room or kitchen table with table lamps, candles and other lighting supplies. Find candlesticks, flameless candles, table lamp bases and lamp shades that set the mood. Create a unique atmosphere with taper candles, tea light candles and more candles for any occasion including birthdays.
Order Your Fondue Supplies
Order your lighting supplies today and they'll be delivered within a few days. Ordering online is easy and fast with items shipped out in one to two business days. If you have any questions about our candles and table lamps, or would prefer to place your restaurant supplies order by phone, please contact Customer Service.