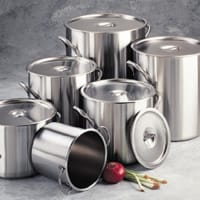 Commercial Kitchen Supplies
Just like a musician needs an instrument, or a painter needs a canvas, all chefs need the proper tools to create their masterpiece. At Wasserstrom, you'll find a variety of food prep items to help, whether it's cookware and food pans, storage containers, or shelving racks for dry goods and can storage. In addition, there are plenty of food prep tools to mix and bake, fry and roast, chop, slice, mince and dice - so they can prepare every dish to perfection. Whether you need the proper utensils, a space to create your signature dish or an organized place to store your supplies, you'll find it at Wasserstrom.
More
Cookware
From Intrigue® professional cookware to sauce and saute pans, You'll find a variety of cookware options at Wasserstrom. Our stainless steel dishes and cast iron cookware are affordable, and ready to help you create the savory signature dishes that your guests love. You'll even find all the cookware tools, utensils, food pans and mixing bowls you need to safely and properly prepare, serve and store your culinary masterpieces, from beginning to end.
Order Your Cookware, Storage Jars or Food Pans Today
Order your cookware, storage jars and other restaurant supplies today, and they'll be delivered within a few days. In fact, most items ship within one to two business days. Ordering online is the easiest and fastest method. However, if you have questions about shelving racks for can storage, need help choosing the appropriate cookware, or would prefer to place your restaurant supplies and equipment order by phone, please contact Customer Service.