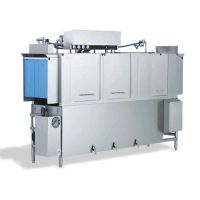 Jackson Machine
Get your Jackson Dishwasher at Wasserstrom.com. They have conveyor and door models. Some conveyor have EnergyStar rating. The Energyguard control also helps control your work costs. The front style also comes with an Energy Star rating. They provide a small footprint for your kitchen. The full automatic machines will assist cutting the work load of your kitchen. Let us help you select the Jackson dishwasher or dish table for your kitchen or business!
For additional Large Equipment information or specifications, please contact our Customer Service department at 1-877-425-8906.
More
Jackson Dishwashers and Pots & Pans Dishwashers
Shop for Dishwashers and Front Loading Dish Machines from Jackson Machines at Wasserstrom.com online. Get the Jackson Dishwasher for your restaurant equipment now. Find Jackson Conveyor Dish Machines and more Jackson Equipment at Wasserstrom.
Order Your Jackson Conveyor Dishwashers and Pots and Pans Dishwashers
Order your Jackson Appliances or other Jackson Equipment today, and have your Jackson Products arrive within a few days. Ordering online is easy and fast, most In-Stock items ship out in 2-3 business days. For exact Shipping Estimates, please contact Customer Service. If you have any questions about our collection of Jackson Machine Products or would prefer to place your restaurant supplies order by phone, please contact Customer Service.