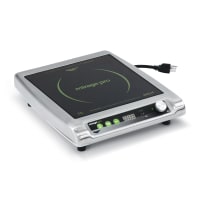 Induction Stoves
Shop commercial-grade induction ranges at Wasserstrom – in stock, ready to ship to your restaurant. From light-duty presentation cooking to heavy-duty all-day continuous cooking, we've hand-picked a full assortment of induction ranges suitable for food trucks, buffets, caterers, back-of-the-house restaurants, and more.
How does induction cooking work? Induction uses electric current to create alternating magnetic fields that push a current against the molecules in induction-ready cookware. The resistance from the molecules then produces heat in the pan, which means the pan itself creates the heat. There's no open flame and no heat produced unless there's a pan placed on the top. Learn More ›
Also explore: Induction-Ready Cookware, Kitchen Utensils, Thermometers.