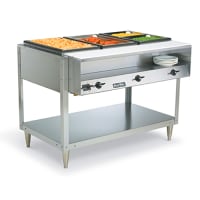 Electric Hot Food Tables, Portable Hot Food Tables, and More Hot Food Tables! Natural gas hot food tables, propane hot food tables, stationary hot food tables, 3-well hot food tables, and 5-well hot food tables can all be found at Wasserstrom. You'll find hot food tables and buffet induction tables from leading manufacturers including Vollrath®, Duke®, Randell®, and more! Find the right 2-well hot food table or dark wood buffet induction table for your catering business or party area!
For additional Large Equipment information or specifications, please contact our Customer Service department at 1-877-425-8906.
More
Food Tables
Shop for food tables online at Wasserstrom.com. These food tables make serving customers hot food easy. Choose from Vollrath®, Duke®, Randell® food tables at Wasserstrom.com. Wasserstrom.com also has a great selection of parts for these food tables.
Order Food Tables
Order a food table at Wasserstrom.com. Ordering online at Wasserstrom.com is easy and you can have a food table delivered to your door. If you have any questions or would prefer to place your equipment order by phone, please contact Customer Service and speak to one of our friendly representatives.