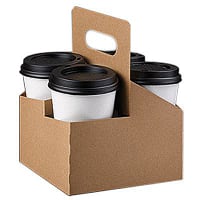 Hot Cups
Check the selection of disposable hot cups at Wasserstrom.com. We have white cups, compostable cups, coffee sleeves, and cup carriers. Great for use in coffee shops, cafeterias, hospitals, or at catered events. We carry Solo, LBP, Saalfeld, Mystique and more environmentally friendly cups.
More
Disposable Hot Cups
Everybody loves a nice warm beverage on a cold blustery day. Get the disposable white cups and compostable cups you'll need to keep everyone toasty and above freezing. Also find the hot cup sleeves and drink carriers you'll need to prevent hands from burning.
Order Your Coffee Jackets and Tea Dispensers
Order your disposable hot cups today, and have them arrive within a few days. Ordering online is easy and fast, with more items shipped out in one to two business days. If you have any questions about our disposable hot cups, or would prefer to place your restaurant supplies order by phone, please contact Customer Service.
Product List
Item #: 6074021

Model #: 5000080

By: Darling Food Service

Sold As: Case of 1000

Item #: 6102716

Model #: CU-SU-10

By: World Centric

Sold As: Case of 1000

Item #: 6104792

Model #: CU-SU-4

By: World Centric

Sold As: Case of 1000

Item #: 6000074

Model #: 5000045

By: Darling Food Service

Sold As: Case of 1000

Item #: 6001230

Model #: 5000055

By: Darling Food Service

Sold As: Case of 1000

Item #: 6001231

Model #: 5000056

By: Darling Food Service

Sold As: Case of 1000

Item #: 6090834

Model #: W370RC-J8484

By: Bunzl

Sold As: Case of 480

Item #: 6097649

Model #: 5000199

By: Darling Food Service

Sold As: Case of 500

Item #: 6095454

Model #: 5000178

By: Darling Food Service

Sold As: Case of 1000

Item #: 6098521

Model #: EP-BNHC16-WD

By: Eco Products

Sold As: Case of 600

Item #: 6105789

Model #: CU-SU-12

By: World Centric

Sold As: Case of 1000