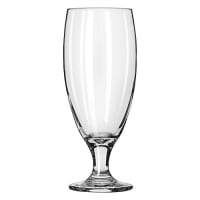 Fizzazz™ Glassware by Libbey Shop for mixing glasses, pilsner glasses, champagne flutes and munique beer glasses from the Libbey® Fizzazz™ line. These drinking glasses are specially designed to accelerate carbonation, making the drink served in them more effervescent. The unique design also helps release aromas and flavors, which enhances drink enjoyment. Ideal for serving
beer
or sparkling
wine
.
More
Libbey® Fizzazz™ Glassware
Order the Fizzazz™ glassware from Libbey® today. This glassware is specifically designed to accelerate carbonation to add more fizz to your drinks. Shop other Libbey® glassware collections like Vina™ and Perception glassware collections.
Order Libbey® Fizzazz™ Glassware
Order the perfect glassware that will make you drinks more bubbly when you choose Libbey® Fizzazz™ glassware. Ordering online at Wasserstrom.com is fast and easy. To complement your Libbey® glassware, browse through our selection of china, flatware and other glassware. Wasserstrom has been providing affordable, quality restaurant equipment and supplies, as well as our excellent customer service for more than 100 years. For questions about Libbey® glasses and other supplies for your restaurant, please call Customer Service.