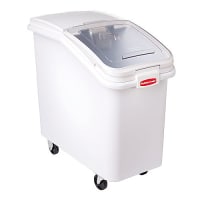 Dough Boxes and Ingredient Bins
For dough boxes and ingredient bins to match your commercial kitchen's ethos and logistical requirements, look no further.
Rubbermaid and Cambro offer easy access to loose ingredients with their slant-front ingredient bins. These bins feature clear covers, so inventory is accomplished at a glance. Additionally, some slant front ingredient bins have wheels for easy mobility and organization, while others have built-in scoops that are always visible and readily available.
Our selection of dough storage options are perfect for storing, transporting, proofing, and cooling. Bakeries, pastry chefs, and pizzerias will love MFG Tray's NSF listed, fiberglass dough containers for protection and storage. These dough trays securely stack with or without lids and can withstand intermittent temperatures between -60° to 250° F without warping or sagging. Your dough is safe inside.
Product List
Item #: 107305

Model #: FG360088WHT

By: Newell Brands Distribution LLC

Sold As: Each

Item #: 107325

Model #: FG360288WHT

By: Newell Brands Distribution LLC

Sold As: Each

Item #: 591787

Model #: FG9G6000WHT

By: Newell Brands Distribution LLC

Sold As: Each

Item #: 850044

Model #: FG9G5700WHT

By: Newell Brands Distribution LLC

Sold As: Each

Item #: 850028

Model #: FG9G5800WHT

By: Newell Brands Distribution LLC

Sold As: Each

Item #: 107342

Model #: FG9F7700CLR

By: Newell Brands Distribution LLC

Sold As: Each

Item #: 107351

Model #: 4434-2H-3901

By: Faribo

Sold As: Each

Item #: 107338

Model #: P434-02-2510

By: Faribo

Sold As: Each

Item #: 230235

Model #: FG9F7800CLR

By: Newell Brands Distribution LLC

Sold As: Each

Item #: 107317

Model #: FG9F7900CLR

By: Newell Brands Distribution LLC

Sold As: Each

Item #: 600612

Model #: DB18263CW148

By: Cambro

Sold As: Each

Item #: 600610

Model #: DBC1826CW148

By: Cambro

Sold As: Each

Item #: 600602

Model #: 870148 5136 1075

By: MFG Tray

Sold As: Each