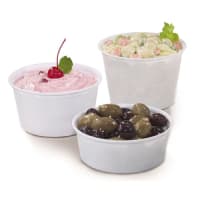 Deli Containers
Order your Deli Containers and Lids at Wasserstrom.com for your take out needs. You can get Kal-Tainer and Fabri-Kal containers and lids at Wasserstrom for your disposable take out supplies. Select the cup and lid for the size you will need.
More
Disposable Deli Containers
Buy disposable deli containers online at Wasserstrom. Keep your deli stocked with our collection of Fabri-Kal® deli containers in a variety of sizes. Get 16 oz. deli containers, 8 oz. deli containers, deli container lids and more deli containers for your soup and salad bar.
Order Deli Container Lids and 32 oz. Deli Containers
Order DeliTainer® deli containers and deli container lids and have your containers delivered to your door within a few days. Ordering online is fast and easy, with more items shipped out in one to two business days. If you have any questions about our collection of disposable deli containers, or would prefer to place your restaurant supplies order by phone, please contact Customer Service.
Product List
Item #: 6083301

Model #: 5000137

By: Darling Food Service

Sold As: Case of 300

Item #: 6083302

Model #: 5000138

By: Darling Food Service

Sold As: Case of 300

Item #: 6083303

Model #: 5000139

By: Darling Food Service

Sold As: Case of 300

Item #: 6083304

Model #: 5000140

By: Darling Food Service

Sold As: Case of 300

Item #: 6072330

Model #: 5000079

By: Darling Food Service

Sold As: Case of 2500

Item #: 6095987

Model #: EP-RDP8

By: Eco Products

Sold As: Case of 500