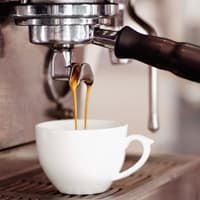 Coffee Shop Supplies
Shop coffee house supplies like coffee decanters, airpots and hoppers at Wasserstrom. Find everything your coffee shop needs to create the perfect cup of steaming hot coffee or tea. Also, get the cream chargers you'll need to create that creamy, decadent whipped cream to top off specialty coffee drinks. Select from your favorite brands like Bunn or Bodum.
For additional information or specifications about Coffee Supplies, please contact our Customer Service department at 1-877-425-8906.
More
Coffee Shops
For your independent coffee shop or your kitchen counter, get all of the coffee supplies you'll need to create a fabulous coffee shop concoction. Find coffee presses , coffee hoppers, coffee grinders and coffee urns to make and serve the perfect cup of coffee. Get steaming pitchers to froth and steam milk to perfection and top off your creation with creamy, decadent whipped cream with the help of our cream chargers . Also find accessories like drip catchers, coffee pot lock kits and coffee jackets to help your coffee shop run as smoothly as possible.
Order Your Beverage Servers and Beverage Tents
Order your coffee grinders, coffee decanters and coffee tapers today, and have them arrive within a few days. Ordering online is easy and fast, with more items shipped out in one to two business days. If you have any questions about our airpots, coffee urns and other coffee shop supplies, or would prefer to place your restaurant supplies order by phone, please contact Customer Service.