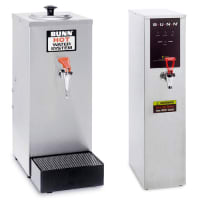 Hot Water Dispensers Shop Wasserstrom.com for BUNN® hot water dispensers. Have plenty of hot water available to customers for making their favorite brand of tea. Also find a great selection of
coffee servers
.

For additional Small Equipment information or specifications, please contact our Customer Service department at 1-877-425-8906.

More
BUNN® Hot Water Dispenser
Purchase BUNN® hot water dispensers for your restaurant, deli, or coffee shop at Wasserstrom.com. Also find a great selection of liquid coffee dispensers and more BUNN® beverage equipment. Wasserstrom.com also has the parts needed for BUNN® hot water dispensers!
Order BUNN® Hot Water Dispensers at Wasserstrom
You can find the right BUNN® hot water dispenser for your coffee shop or restaurant right here at Wasserstrom.com. Ordering online is the easiest and fastest way to purchase BUNN® hot water dispensers. If you have questions about our selection of beverage equipment or would prefer to place your restaurant equipment order by phone, please call Customer Service