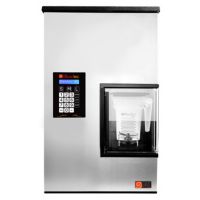 Blendtec Get your Blendtec Blenders from Wasserstrom. The Blender Dispensers give consistency product, has portion control, and multi-tasking is just another benefit of the drink program in-a-box. It has multiple drink menu items, LCD display and solid-state electronics.
For additional Small Equipment information or specifications, please contact our Customer Service department at 1-877-425-8906.
More
Blendtec Blender Stations
Shop for Drink Stations and Servers from Blendtec at Wasserstrom.com online. Get the Blendtec Blender for your restaurant equipment now. Find Blendtec parts and accessories and more Blendtec Equipment at Wasserstrom.
Order Your Blendtec Blending Stations and Blendtec Stands
Order your Blendtec Blenders and other Blendtec Equipment today, and have your Blendtec Products delivered to your door. Ordering online is easy and fast, most In-Stock items ship out in 2-3 business days. For exact Shipping Estimates, please contact Customer Service. If you have any questions about our collection of Blendtec Products or would prefer to place your restaurant supplies order by phone, please contact Customer Service.