Since 2014, Fry Out Cancer has raised more than $83,000 for cancer related charities. Looking to surpass the $100,000 mark, this annual event benefits The Ohio State University Comprehensive Cancer Center – Arthur G. James Cancer Hospital, and Richard J. Solove Research Institute. The event gives communities the opportunity to knock out two birds with one stone by funding cancer research while providing turkeys to those in need on Thanksgiving.
Why You Should Fry
Thanksgiving can be a tough holiday. During the COVID-19 pandemic, shelter rates have increased and many have lost their jobs. Fry Out Cancer is the perfect opportunity to give back to the community.
"We've had friends and family affected by cancer," says Matt Freedman, the founder of Fry Out Cancer. "We wanted to do something to honor them and do something on Thanksgiving to really bring forth the idea of giving more so than the thanks."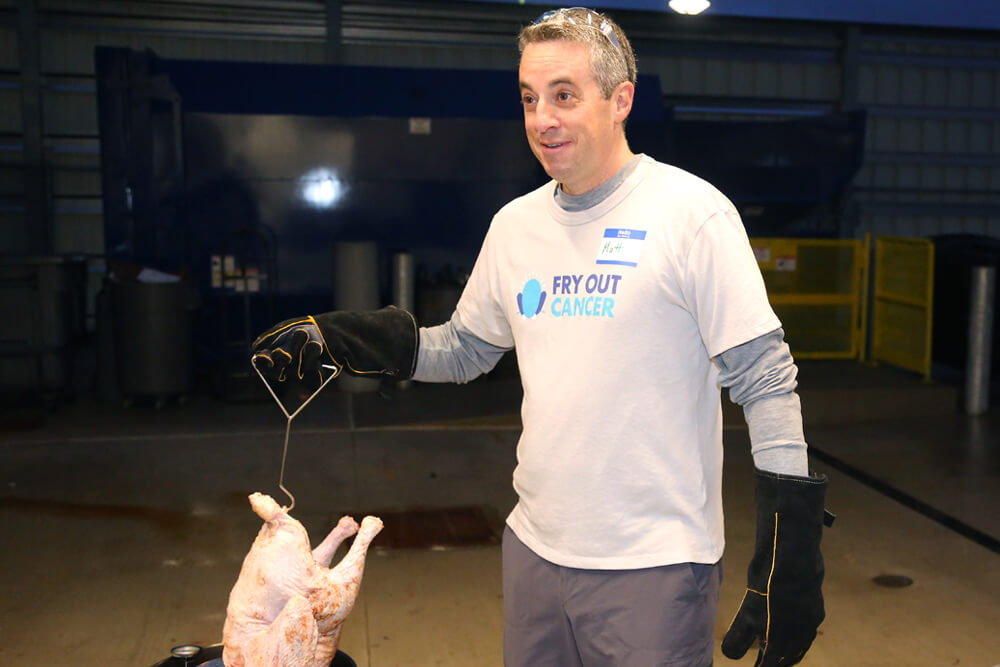 Freedman has had personal experiences dealing with cancer and started Fry Out Cancer back in 2014. Knowing he had a skill in cooking turkeys, he decided to start Fry Out Cancer. Starting with just one fryer, they've had to increase the number of fryers needed to 13 to be able to keep up with the demand.
How it Works
The three main objectives of Fry Out Cancer are to raise money for cancer research, provide turkeys to those in need on Thanksgiving, and to increase volunteerism over Thanksgiving.
Those that are donating place their order for a fully prepared fried turkey and select a time to pick it up on Thanksgiving. Donors are also encouraged to sponsor a turkey that will go to a family in need. At the time of writing this, Fry Out has raised close to $13,000 with a goal of $30,000. All proceeds are split up evenly between pediatric brain cancer research and ovarian cancer research.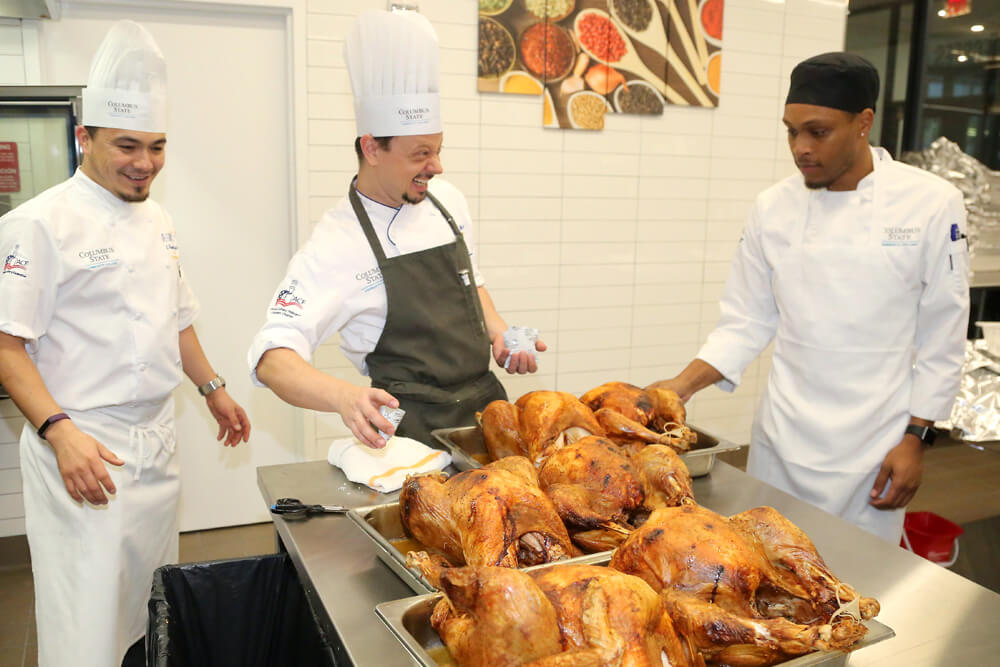 Turkeys that will be donated to local shelters will be roasted two days before Thanksgiving at Columbus State Community College's Mitchell Hall. Volunteers will pick up those turkeys and deliver them to local shelters the day before Thanksgiving.
"We are so proud to partner with Matt Freedman and Fry Out Cancer," says Brad Wasserstrom, President of Wasserstrom. "In a year like 2020, it is more important than ever to support these worthwhile causes. Whether it be supporting cancer research, or just helping to provide families with Thanksgiving dinner, the Wasserstrom family feels it important to contribute to organizations like Matt's."
On Thanksgiving day, there will be various roles to play such as frying the turkeys, managing teams outside, and cleaning up after the event. Those that are more interested in volunteer service can find out more here. The volunteer count is expected to be somewhere around 50 great individuals this Thanksgiving.
"Last year was my first year in volunteering with Fry Out Cancer," says Jennifer Johnson, an employee at Wasserstrom. "I was very impressed with how organized and easy the process went to fry the turkeys. It made for a fun and enjoyable volunteer experience. I met new people and made connections that have led to more volunteer opportunities. I definitely am excited to volunteer for this event for years to come!"
Changes For 2020
In the midst of a pandemic, you'd assume that an event like this would be cancelled. COVID-19 has affected more people financially than any recession has. But with every year of growth, Fry Out Cancer is expecting another year of increased turkey donations. Starting with just 10 fried turkeys in 2014, there will be 150 roasted and 50 fried turkeys this year. More people need help now than prior years.
"We've got to figure out a way to make this work", says Freedman. Back in July, Freedman thought they wouldn't be able to pull off a successful fundraiser. Most fundraising events had been canceled. But Freedman knew this event had to keep going due to the shelters starting to fill up. Coming up with their own plan, he was able to keep Fry Out Cancer going.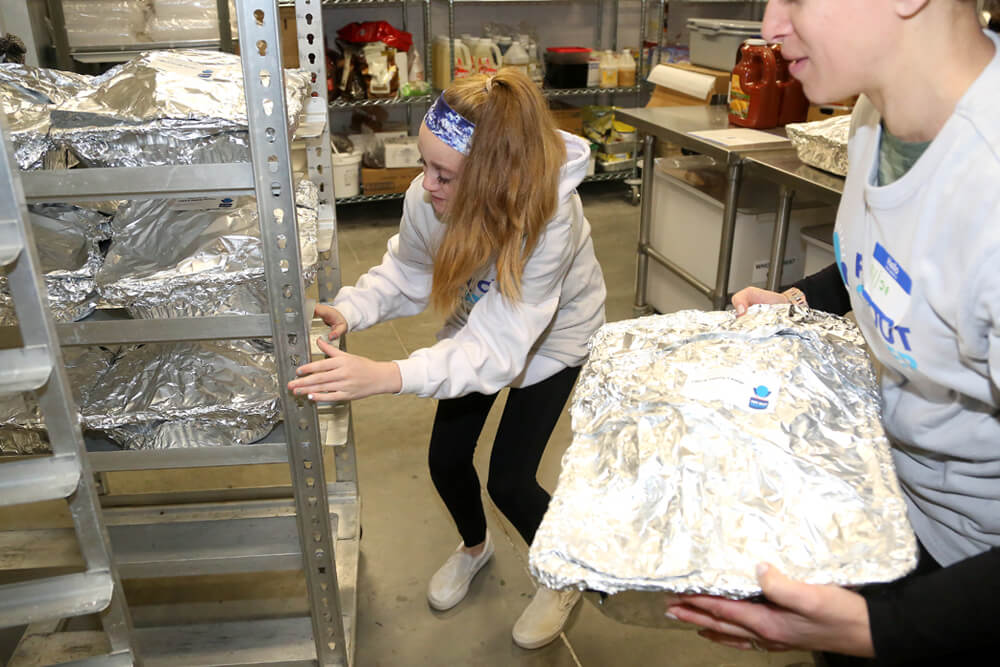 In 2020, Fry Out Cancer will provide turkeys to Thanksgiving meals at iResolve Family Fitness, the YWCA Family Center, Community Shelter Board, New Albany Food Pantry, Hilltop Community Worship Center, Catholic Social Services, and Faith Mission. The turkeys will be sourced from Ohio-based Blue Ribbon Meats.
This year, Columbus State will be taking care of the turkey prep and will roast the 150 turkeys that will be donated to the shelters. Fry Out Cancer will then transport the remaining 50 turkeys to Temple Beth Shalom in New Albany where they will be fried on Thanksgiving Day. In 2020, Fry Out Cancer will also partner with The Free Food Solider and My Sister's Place to distribute turkeys to families in Athens county—a heavily impoverished area.