WaveBrake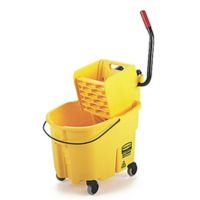 WaveBrake® Mopping System The
Rubbermaid
WaveBrake® Mopping System can handle any mopping job with ease, in sizes from 26 quart to the new 44 quart system.
The famous patent-pending technology in every WaveBrake® bucket reduces splashing for a safer environment, cleaner floors and more efficient mopping. Don't forget to shop Wasserstrom.com for
floor cleaners
to use with your Wave Brake® mopping system.
Product List
Item #: 661004

Model #: FG758088YEL

By: Rubbermaid

Sold As: Each

Item #: 660998

Model #: FG758088BRN

By: Rubbermaid

Sold As: Each

Item #: 655397

Model #: FG758888BLUE

By: Rubbermaid

Sold As: Each

Item #: 655396

Model #: FG758888RED

By: Rubbermaid

Sold As: Each

Item #: 655398

Model #: FG758888GRN

By: Rubbermaid

Sold As: Each

Item #: 655500

Model #: FG757088YEL

By: Rubbermaid

Sold As: Each

Item #: 655401

Model #: FG757088BRN

By: Rubbermaid

Sold As: Each

Item #: 655901

Model #: FG612788YEL

By: Rubbermaid

Sold As: Each

Item #: 655951

Model #: FG757588YEL

By: Rubbermaid

Sold As: Each

Item #: 655950

Model #: FG757588BRN

By: Rubbermaid

Sold As: Each

Item #: 881153

Model #: FG748000YEL

By: Rubbermaid

Sold As: Each

Item #: 655391

Model #: FG757788YEL

By: Rubbermaid

Sold As: Each