Disposers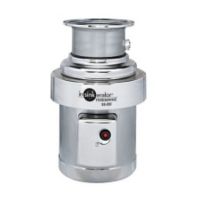 Large Capacity Disposers, Small Capacity Disposers, and More Disposers! Disintegrate food waste with the flip of a switch.
InSinkErator®
garbage disposals and food waste disposers offer you a dynamic operation with stainless steel grind chambers and dual direction cast iron shredders that will provide optimal results. Find the light capacity disposer or commercial disposer you're looking for, at Wasserstrom.
For additional Large Equipment information or specifications, please contact our Customer Service department at 1-877-425-8906.