Loading...
Due to a Warehouse Move, This Product May Take an Additional 5 - 7 Days to Ship
| | |
| --- | --- |
| Product Name | Nordic Ware® 80602 10-Cup Bundt Pan |
| Product ID | 964218 |
| Manufacturer Name | Nordic Ware - Food Service |
| Model Number | 80602 |
| Length | 10.0 in |
| Width | 4.0 in |
| Height | 3.75 in |
| Weight | 1.98 lb |
| UPC | 0011172806024 |
| Hazmat | N |
| Oversize | N |
| Return To Manufacturer | Y |
| Brand Name | Nordic Ware® |
| Country Of Origin | United States |
| Each Length | 10 |
Page 1 of 1 - 1 -
Nordic Ware® 80602 10-Cup Bundt Pan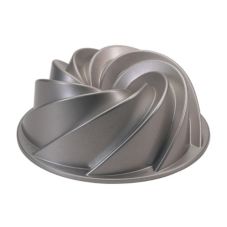 By: Kitchen Grrl
From: Chapel Hill , NC

Nordic Ware® 80602 10-Cup Bundt Pan
This review is based on a single use. However, pound cake recipe that I've use without a problem in other decorative bundt pans stuck like crazy in the Heritage pan. The edges that didn't stick were definitely overcooked by the time the rest of the cake was cooked. I'm hoping that the pan will acquire seasoning with use, but I'm reluctant to use it and ruin another cake.

By: Kayakado
From: Florida

Nordic Ware® 80602 10-Cup Bundt Pan
I love this pan, it is my favorite bundt pan. Cakes made with this pan never fail to delight my guests. I clean it with the same pastry brush I use to grease it. I find it a dream to unmold and clean. I've made a dozen cakes with it. It is my most requested style. Dark chocolate cakes dusted with powdered/icing sugar are the most dramatic. The shape also gives you a nice texture contract between the soft center and the crunchy edges of the fins. I wish it came in a 6 cup size or was one of the Nordicware quartet bundt designs. I never use spray-on coatings with this pan. Brush the pan with butter or vegetable shortening and dust with flour for light color cakes. Mix equal parts of vegetable shortening and cocoa mixture to brush on and then dust with sifted cocoa and your cakes won't stick!

By: Neta
From: Philadelphia, PA

Nordic Ware® 80602 10-Cup Bundt Pan
Saw the pan on line and had to have it. Baked a cake for co-worker's party. The cake's shape amazed everyone. They didn't want to cut it. The cake baked evenly. The cake pan cleaned easily. I've used it 3 times since I purchased it. It is now my favorite cake pan.

Primary Use: Personal/Home
By: beckygardens
From: new orleans

Nordic Ware® 80602 10-Cup Bundt Pan
I was this beautiful bundt pan and was concerned that all the swirls and sharp edges might mean sticking, but I used the all in one flour spray and it worked great, the cakes unmold beautifully and I get nothing but Oohs and Aahs over how beautiful the cake is. The construction of the bundt pan is very heavy, very well made. I would not put in the dishwasher but it was very easy to clean with a soft toothbrush to get the crevices. Paler cakes tend to show off the detail better, a cake you can make and dust with powdered sugar is a total show stopper.

Primary Use: Personal/Home
By: bradley43
From: Milwaukee,Wisconsin

Nordic Ware® 80602 10-Cup Bundt Pan
Another amazing pan from Nordic Ware! They have a superior no stick coating oint ehse pans ans they are always a JOY to use!!!!!!!! I have reccomended them to friends and they all agree with the superior quality of these pans! Nordic Ware makes wonsderful products!

Primary Use: Personal/Home
By: Vee, Baker Extraordinaire
From: Washington, DC

Nordic Ware® 80602 10-Cup Bundt Pan
I use this wonderful cake pan to prepare cakes for family, friends, and customers. The presentation is spectacular, allowing the baker to make a stunning presentation with a simple poundcake dessert. I dust it with powdered sugar or pour a simple syrup over it. My rum-pineapple-coconut poundcake is so spectacular that is now my top seller. It comes out of the pan easily when sprayed with a baking spray that includes flour. Things that aren't so great about it? I'd like for it to be a little bit bigger. I have about a cup of batter left over from my family recipes. I'd rate this pan a 10 overall.

Primary Use: Personal/Home
By: Ren
From: Tampa, FL

Nordic Ware® 80602 10-Cup Bundt Pan
Awesome pan, stunning presentation. My new go-to pound cake pan. Highly recommended, you truly will not regret this purchase. (I use a pastry brush to oil the pan well in all the cracks and crevices, then dust it lightly with flour. Using this technique, no problems for me unmolding cakes).

Primary Use: Personal/Home
3 Questions Asked

Page 1 of 1 - 1 -
By: J Van
From: Northborough, MA

Mar 2, 2011

Question:
Is this an aluminum pan, like the original Nordic Ware? The description doesn't say and, being produced by Niagara Ceramics, one wonders what material is used.
Answer:
This bundt pan is an aluminum pan. Thank you.
By:
From:

Jun 4, 2011

Question:
is this teflon lined?
Answer:
Yes, this bundt pan has a teflon non-stick coating.
By: j.g.
From: WI

Oct 5, 2011

Question:
Is this pan made by Nordic Ware or is it made by another company as it says? If it is made by Niagara Ceramics and not Nordic Ware, it is not a Bundt pan by definition.
Answer:
This pan is from Nordic Ware. Our manufacturer name was in error and it is being corrected. Thank you.