Loading...
This Non Stick Hospitality Iron has an extra long cord for easier ironing. Can be used on all types of fabrics. Very light weight as well. Only 2.1 lbs. Will automatically shut off if left on the soleplate for longer than 30 seconds with no movement. If in resting position, it will automatically shut off after 15 minutes.
Height: 5.25"
Non Stick soleplate
Length: 10.25"
Model #: HIR200R
Automatic Shut Off
Width: 4.25"
| | |
| --- | --- |
| Product Name | Hamilton Beach HIR200R Non-Stick Hospitality Iron |
| Product ID | 290040 |
| Manufacturer Name | Hamilton Beach Commercial |
| Model Number | HIR200R |
| Length | 11.05 in |
| Width | 6.2 in |
| Height | 4.85 in |
| Weight | 2.455 lb |
| UPC | 040094912551 |
| Cross Reference ID | HIR200R, 290040 |
| Hazmat | N |
| Oversize | N |
| Return To Manufacturer | Y |
| Country Of Origin | China |
| Case UPC | 040094912551 |
| Color | Blue |
| NSF Approved | Y |
| UL Approved | Y |
| Volts | 120 |
| Brand Name | Hamilton Beach® |
| Warranty Details | 1 |
Page 1 of 1 - 1 -
Hamilton Beach HIR200R Non-Stick Hospitality Iron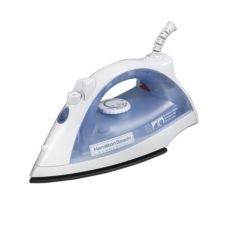 By: Reba's twin
From: Eden Prairie, MN

Hamilton Beach HIR200R Non-Stick Hospitality Iron
I use this for ironing. I like the light weight of this item but the dial switch is hard to turn...great iron otherwise.

3 Questions Asked

Page 1 of 1 - 1 -
By:
From:

Oct 25, 2010

Question:
Does this iron have steaming capability vertically?
Answer:
This iron does have the capapbilities to steam vertically.
By: Ed
From: Hanover, PA

Sep 10, 2011

Question:
I own a Hamilton Beech iron. How do I prime the iron for steam use?
Answer:
Information in Operating Manual located under Literature tab on our website: 1. Unplug iron. Pour 4 ounces (1⁄2 cup) of ordinary tap water into water tank opening. Plug iron into outlet. 2. Turn Temperature Control Dial to desired setting in the steam range. Allow 2 minutes for the iron to reach desired temperature. 3. Turn the Adjustable Steam Dial to desired steam setting. Water: Please use ordinary tap water. If you have extremely hard water, alternate between tap water and distilled water for use in the iron. Thank you.
By: Debbie White
From: 801 Hunt Lane, Sedro-Woolley, WA 98284

Apr 6, 2015

Question:
I bought a Hamilton Beach Iron Model 14977Z about 1 year ago. I plugged it in on Friday, and it started making a beeping noise, the light was flashing and it won't get hot. I have never dropped it. I paid almost $40.00 for this Iron and then it doesn't even last a year. I looked at all the trouble shooting items in the book that I got with the iron and my issue with the iron was not listed. I do not have a receipt because I have never had any other problem with any other iron or any other item I have bought from Hamilton Beach. I am looking to have Hamilton Beach replace it for the same one or one close to this model for free. Ya, I know, it's a long shot but maybe today's my lucky day... what do you say!
Answer:
Hello, if you purchased the model 14977Z Iron through our company, Wasserstrom, you can contact our customer service department at 1-866-634-8927. However we do not currently carry this model. If you purchased this product directly through Hamilton Beach, we would recommend contacting them at 1-800-851-8900. This product is listed as having a Limited Warranty, guaranteeing that it will be free of defects for up to (1) year from the original date of purchase in the United States (5 years in Canada). Thank you!