Loading...
Cooper Atkins 35100-K AquaTuff™ Waterproof Thermocouple

Item #: 113345


Model #: 35100-K
Manufacturer: Cooper-Atkins


Cooper Atkins AquaTuff™ Waterproof Thermocouple w/ Type K Jack
This AquaTuff thermocouple is the optimal choice for accuracy and maximum durability. It features the trademark waterproof construction of the AquaTuff line, along with a type K jack that accepts any type K thermocouple probe with a standard mini-connector. This thermocouple has a temperature range of -100° to 999°F and a 10-minute auto shutoff ability that conserves battery life.
Built-In Type K Jack Accepts Any Type K Thermocouple Probe w/ Standard Mini-Connector (Probe Sold Separately)
IPX7 Waterproof Rating
10 Minute Auto Shutoff
F/C Switchable
Large, Easy to Read LCD Screen
Easy Twist-Open Battery Hatch
Takes Two AAA Batteries (Not Inlcuded
Battery Life: 1800 hours
NSF Component, CE, RoHS, WEEE Certified
5 Year Warranty
Temperature Range: -100° to 999°F (-73° to 537°C)
Temperature Accuracy: ±0.5°F (±0.3°C) at ambient temperatures between 68° and 86°F (20° to 30°C)
Resolution: 0.1°
Ambient Temperature Range: 32° to 122°F (0° to 50°C)
LCD Height: ½"
Unit Height: 6½"
Unit Width: 2¼"
Unit Depth: 1¼"
Housing Material: ABS Plastic
Model #: 35100-K
| | |
| --- | --- |
| Product Name | Cooper Atkins 35100-K AquaTuff™ Waterproof Thermocouple |
| Product ID | 113345 |
| Manufacturer Name | Cooper-Atkins |
| Model Number | 35100-K |
| Length | 4.5 in |
| Width | 8.9 in |
| Height | 2.0 in |
| Weight | 0.25 lb |
| UPC | 070131435101 |
| Cross Reference ID | K644 |
| Hazmat | N |
| Oversize | N |
| Return To Manufacturer | Y |
| Country Of Origin | United States |
| Material | ABS |
| Each Weight | 0.3 |
| Each Height | 6.5 |
| Each Width | 2.25 |
| Each Depth | 1.25 |
| CE Approved | Y |
| NSF Approved | Y |
| Warranty | 5 Year Instrument Warranty |
| Ship UPS or FedEx | Y |
Page 1 of 1 - 1 -
Cooper Atkins 35100-K AquaTuff™ Waterproof Thermocouple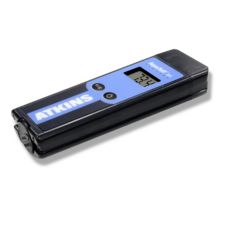 By: K.Ahmed
From: DAMMAM KSA

Cooper Atkins 35100-K AquaTuff™ Waterproof Thermocouple
I am using this product from last 10yeasrs and i can say that this the best product for taking the temp or when we can say that its the moost important product when we talk about the food safety. Just need start given the safety box or tool box so that your customer can keep this product safely rather than come in normal box. Thanks. Kamran Ahmed.

Primary Use: Restaurant
3 Questions Asked

Page 1 of 1 - 1 -
By: Mark
From: Nashville, TN

Feb 6, 2012

Question:
I am trying to find a thermocouple reader/display that I can put through a dish machine for an accurate temperature reading of the water. The water temperature would be less than 200 deg.F. Mark
Answer:
Hi. I'm not sure what kind of dishwasher you have. If you have a conveyer dishwasher, it would be hard to use a thermometer with it. If it's a dishwasher with a hinged door, I don't know if the cord from the probe would allow the door to close properly. I would suggest to use some dishwasher temperature test strips to verify proper sanitation temperatures. Some that we carry are item #s 988877, 948655, 103924
By:
From: Salinas Ca

Nov 11, 2014

Question:
Hello, I have many thermometers that I am ready to dispose of them. What is the correct way to do this? Is there is a proper way of disposal? Thanks
Answer:
Hello, disposal method for the thermometers would depend on the material that the thermometers are made from, and what type of liquid the thermometers hold (if any). We would recommend contacting the specific department in your city for disposal information and laws. Thank you!
By: Von
From: Los Angeles

Apr 27, 2015

Question:
I own the Accutuff340 Atkins Thermocouple. It says Atkins Accutuff 340 type K thermocouple thermometer. I need the probe or cord that is attached to it. Do you carry this item? Von
Answer:
Hi, I contacted the manufacturer regarding your thermometer and they stated that the 340 uses its own probe but has been obsolete for several years now and have exhausted all the inventory to make replacement probes. You may want to think about possibly purchasing an upgraded unit. Thank you.